Games and Competition
Every day and all around the world, our athletes train and strive to achieve their very best. During World Games, the entire Special Olympics movement comes together to see our athletes in action and celebrate their victories over huge odds. No other event in the world has the social and emotional impact of the Special Olympics World Games. For the athletes and their families, the experience opens doors to unimagined possibilities. For volunteers, coaches, and other supporters from all parts of the world, the Games inspire hope and belief in a brighter future of global acceptance, understanding, and unity.
Stories about World Games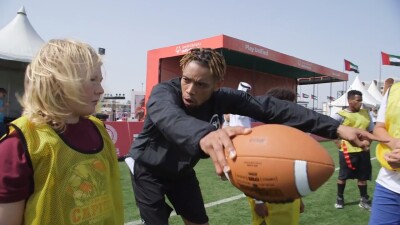 Joe Haden, cornerback for the Pittsburg Steelers, had a blast taking part at the Unified Flag Football Clinic at the 2019 World Games in Abu Dhabi.
1:02
More than 200 delegates from 12 countries took part in the inaugural Special Olympics International Football Championship held in Chennai, from 3 August to 6 August 2019.
1 Min Read