Unified leadership focuses on both leaders with and without intellectual disabilities (ID) to develop their mindsets and skills. The goal is to build the best possible environment for people with ID to succeed in meaningful leadership roles and activities. This way of thinking revolves around two main ideas: firstly to educate and empower people with ID and secondly to create a better understanding of people with ID, which in turn creates more inclusive cultures in organizations and in society as a whole.
"People with disabilities can absolutely teach leadership skills that help others. They fundamentally do it by being who they are. They are people who haven't really fit a world that is built around your education, background, income and looks. A world that essentially is designed to exclude. They truly do value friendship and decency. Why? Because they know at times and in truly horrible ways what it is like to not have these things. They also love to get an opportunity and will cherish it. Why? Because again at times in truly horrible ways they know what it is like to never get in the game. By simply engaging with this, particularly when they get training and support to truly listen and understand, other leaders begin to see and be reminded of things that do truly matter. To me this is about balance. The world needs more of it."
Ben Haack, Special Olympics Athlete Leader and member of the Board of Special Olympics International
Board of Directors member, Ben Haack, is an athlete leader from Australia whose life mission is to bring inclusion to people with intellectual disabilities.
Loretta Claiborne, Chief Inspiration Officer, is a Special Olympics athlete with a global reputation as a powerful speaker for the rights of people with ID. Sports showed her a new world of achievement. Here she is speaking about the power of women in sports with Emirati competitive Ice Skater Zahra Lari during the Majilis at Special Olympics World Games Abu Dhabi 2019.
Sargent Shriver, second from right, was an early advocate for empowering Athlete Leaders to be spokespeople for the movement. It was through his early investment in athletes as leaders that enabled Special Olympics International to grow from a sports organization to one advocating for change in society.
Jasmine Sharif, Special Olympics Pakistan athlete and Vice-Chair of the Global Athlete Input Council (GAIC) is active on social media and regularly submits short stories about the impact of Special Olympics.
Kester Edwards, Manager of Sport & Health at Special Olympics International, is a former competitive athlete who strives to put athletes first in everything he does. Here he and Bob Beamon, Global Ambassador, are fitting an athlete for a free pair of shoes at World Games 2019.
Hassam Zogaib, Special Olympics Paraguay athlete shared his testimony on being an athlete and a football referee at a 2016 Coaches Certificate in Paraguay.
Special Olympics District of Columbia, athlete Ricardo Thornton carries the Flame of Hope with former South African President Nelson Mandela. This 2001 event launched an ambitious campaign—led and embraced by Special Olympics athletes—aimed at expanding Special Olympics programs to neglected and isolated people with intellectual disabilities across the African continent.
Selina Ao Ieong In, former Sargent Shriver International Global Messenger (SSIGM) and current Special Olympics Macau athlete, delivers a speech during the 2014-2018 SSIGM Training in Washington, D.C.
Photo by Will Schermerhorn
Global Athlete Input Council representative from Africa and Special Olympics Botswana Athlete Leader, Brightfield Shadi speaks at the 2017 Special Olympics Unified Talks in Schladming, Austria.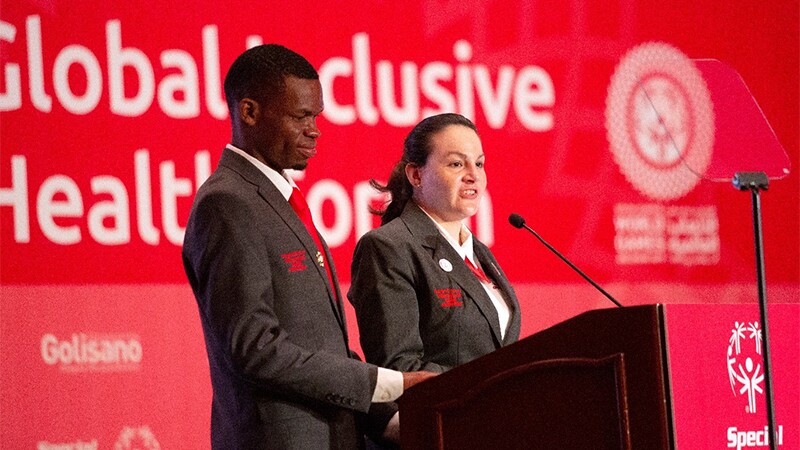 Sargent Shriver International Global Messengers (SSIGMs) Nyasha Derera (left) and Renee Manfredi (right) host the Global Inclusive Health Forum at Special Olympics World Games Abu Dhabi 2019.