Meet Our Champions of Inclusion
Together, and individually, these are the people who breaking down barriers and building a more just and joyful world for all of us!
Meet the people who are leading the charge for respecting and empowering people of all abilities—in sports, in schools, in the workplace, in the community, everywhere!
Chrissy, Advocate & Champion
Chrissy has been an advocate for the disability community for most of her adult life. A disability advocate, Chrissy rallied her fellow RSM employees to form the "Abilities Group," focused on ensuring that RSM remains an inclusive employer.

Chrissy has been with RSM for decades, and fully supports their attentiveness to her own needs, which has kept her at the firm for many years. She wants to spread this story to other companies, highlighting RSM's commitment to inclusion. She also wants to fight for those who have been wrongfully treated due to their varying abilities. Chrissy is a true champion of inclusion!

Coach Long, Above & Beyond
Coach Isaiah Long is a youth basketball coach who is helping my son learn the game of basketball. My son is very shy and was very afraid of the other kids making fun of him for his lack of skills and knowledge of the game. Some people are destined to be great leaders and teachers—and Coach Long is one of those people.

It never matters what your skill level is, what you know or what you didn't know—or if you won or lost. He is there for his entire team and helped to empower all of his players to learn the skills and confidence to become better players and play well together as a team. Coach Long always goes out of his way and above & beyond to make sure the entire team, including the parents, all felt included. Coach Long is my family's champion of inclusion.

Liao Mei: Champion Through History
Professor Liao Mei not only co-wrote a multi-volume history of Special Olympics in China, she is making the
English version
available online for free. "An Oral History of Special Olympics in China," was co-authored by Professor Bill Alford and Professor Cui Fengming.
Liao Mei and husband Li Ping are very strong, long-time supporters of Special Olympics East Asia. With this book, Professor Liao Mei hopes to spotlight "the long journeys and unique feelings of people with intellectual disabilities, presenting a panoramic view…(and also) help people to better examine the impact and role of Special Olympics and public policies on social development." They are Champions of Inclusion—in China and around the world!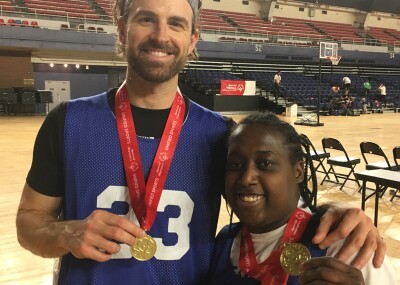 Chris, Coach & Champion
Chris has been a mentor to athletes in Special Olympics DC. He has been a Coach and helps athletes get stronger, more fit and learn new sports. He is a wonderful person and helps athletes meet each other and become friends with each other. Special Olympics DC is very lucky to have him.

Kym, Mentor & Friend
Kym is a quiet but dedicated champion for inclusion who leads by example. In addition to her career and volunteerism with Best Buddies and Special Olympics, Kym has been a friend and mentor to athletes and an advocate for people with intellectual disabilities.

What impresses me the most about Kym is her ability to help people succeed while maintaining high expectations so their contributions are meaningful and a source of pride. She does this with professionalism and compassion that inspires.

Ben, One of the Greats!
He's a Special Olympics athlete and SOI employee—and one of the greatest guys I know. Always willing to help out and share his story. He inspires me every time I get a chance to hear him speak or chat with him.

One of our colleagues was at a conference and guess who was mentioned as a great storyteller? That's right, Ben! Here's her exact quote "I'm in an online conference right now and attending a session on storytelling. The guy leading the session just shared a story about your Ben at Special Olympics!" He truly is a Champion!

Caroline, Above & Beyond!
Caroline is the definition of a Champion of Inclusion. Not only has she dedicated her career to fighting for inclusion in schools across the country, she also spends much of her free time volunteering, playing as a Unified Partner with SODC, raising thousands of dollars in Polar Plunges through the years, and just being a mentor and amazing friend to people with and without ID.

She always goes above and beyond to make sure people are not only included, but growing and thriving.

Carmen, Caring & Empowering Spirit
To me, a Champion of Inclusion is someone who is not satisfied with the status quo and always seeks to positively make a difference in the lives of others. They work endlessly to break down barriers and empower people of all abilities. As President/CEO of Solutions Marketing Group, Carmen Daniels Jones has dedicated her life to elevating the importance of inclusion for people with and without disabilities.

Carmen's insight and expertise, her caring and loving spirit continue to make a tremendous impact on diverse communities nationwide. If she can be a resource, she will guide you, and if she can be of support, she gladly will motivate you with a smile. Carmen truly embodies every sense of the word "Champion."

Toyoda Family: Building Roads to Inclusion
Mr. and Mrs. Toyoda and their partnership with Special Olympics serve as a shining example of how global companies can engage their employees and build communities of hope, respect for people and understanding.

I am grateful to have Toyota on our team as a driving force behind the creation of a more inclusive, welcoming, and joyful world for all. We are honored to be a part of Toyota's spirit and legacy as Toyota works to lead the evolution of technology as a mobility company.

Bezotte Family: Visionary Champions
My Aunt Vickie was born in 1954 with intellectual disabilities. At the time there was still significant pressure on parents to have their children placed in institutions to be raised by medical professionals. My grandparents made the brave decision to raise my aunt as they had their other two daughters. She was raised with the understanding that she was just as capable as anyone else despite doctors' warning that she would never walk, talk or feed herself.

By the age of 6 she was participating in sports with children with and without disabilities. I nominate my grandparents and my Aunt Vickie as Champions of Inclusion and work every day to make sure children with intellectual disabilities around the world know that they are just as capable as anyone else.

Coach Blair, Champion in Many Ways!
Coach Blair has been helping Special Olympics for over 40 years. He's well known by all the athletes- most of whom have been coached by Blair in track, basketball or another sport.

Coach Blair continues to setup practices in track and basketball for Special Olympics DC athletes in the Spring and Fall. Both of his children are also involved in Special Olympics as Unified Partners- Blair even met his wife Jean through Special Olympics! Blair has raised thousands of dollars for SODC over the years by participating in the annual polar plunge where he's known for his back flip. Coach Blair is one of SODC's Champions of Inclusion!

Daniela, Uta and Klaus, Longtime Champions
ABB Germany has been a Special Olympics Germany partner for over 20 years. The Special Olympics volunteer program is so popular at ABB that employees enter a lottery to win a spot as an ABB volunteer at the German National Games and experience the joy of our athletes.

Daniela got the program going and continues to be an avid voice and supporter within ABB. The continued efforts by Klaus and his team, especially Uta, who used to manage the program, allowed it to improve and grow over the years, benefiting our athletes and programs. Not satisfied with ABB's involvement on a national level alone, Klaus is also an advocate to potentially expand the relationship on a global level. There are many people at ABB that contribute and make all of this happen year after year, you can tell it's a matter of the heart for all of them. To me, Daniela, Uta and Klaus stand out as my champions for their relentless efforts to further our movement and for their warmth and love for our athletes.

Kevin: Great Athlete, Just Getting Better!
Kevin has established himself as one of the best Special Olympics powerlifters in Illinois. In the last two years, he has recorded the heaviest lift at the Illinois Special Olympics Summer Games; he recently competed at the USA Powerlifting Nationals, where he deadlifted 462 pounds to take first place in the competition. The lessons learned in the weight room are transferring to other life skills.

A long time ago, Kevin seemed pretty much uncoachable at the beginning. "As a basketball player, when I would ask him to do something there was always a lot of pushback and unwillingness to listen," said his Little City coach, Tim. "There were some struggles …where he wasn't really comfortable with himself." Once he got into powerlifting, you could see right away he became more focused and disciplined and comfortable. He started coming into his own. Over the last nine years, it has been great just watching him develop. He just kept working at it and keeps getting better. He's really progressed over the last four or five years, training wise. He has found his niche!

Totally Unified Franklin!
Franklin Unified Club and Unified Track and Field and Unified Bocce Westmoreland County Special Olympics Pennsylvania.
The Franklin Regional Special Olympics program started out as the Special Needs Athletic Program. Then we started with Special Olympics Bowling then Special Olympics Track and Field. Then came The Unified Club and Special Olympics Unified Track and Field. Then this past year we started Special Olympics Unified Bocce. Also Franklin Regional is trying to become a Special Olympics Unified National Champion as part of Westmoreland County Special Olympics Pennsylvania. Let's go, Franklin!

Rick, Athlete & Everyday Hero
Rick Kruse resides in the beautiful Blue Ridge mountains in Fannin County. Rick loves to hang out with his friends and he always has a smile to share. He competes in Fannin County Special Olympics Softball, Basketball, Track and Field, Bowling and Golf. Last year Rick went to State in Bowling and Unified Golf. He won gold in both competitions!

When Rick isn't hanging out with his friends you will find him working at Ingles. Rick works 20 hours a week and has been a dedicated bagger for 21 years! Even during the pandemic he faithfully goes to work every day. Rick loves his friends and the community and the feeling is mutual.

Stephanie, Champion of Hope and Victory
Stephanie is from Chicago and here is what she does for Special Olympics Colorado: Athlete Leadership and Family Services Coordinator. Stephanie is very talented and I nominate her for the Global Week of Inclusion because she can guide you to terrific leadership opportunities for all athletes. She is a Sargent Shriver international Global Messenger mentor she really models what it truly means to be Champion of Inclusion.

In my view Stephanie is the champion of victory and hope in my life. She is the host of the Good Morning Show for Special Olympics Colorado and she does awesome work with it. Stephanie can also can provide you with a pen pal in Special Olympics. Stephanie is very joyful and I wish someday that I can be just like Stephanie. She is one in a million. Stephanie is a hero.

Pastor with an Inclusive Heart
I am nominating Pastor Roberts because he is the most loving person I know. It does not matter who you are, you are loved.

We have a diversified church with people from all over the world. It does not matter if you tall, short, skinny, fat, black, white, male or female. He loves people of all ages the same. He always has a warm handshake, a nice smile and maybe even a hug. And is not just the people of our church, he reaches out to the needs of the people in our community too.

He is my idea of the kind of person this nomination is all about. He is my Champion.

Abby, One of a Kind
Abby is the legendary one-of-a-kind friend that everyone needs. Our friendship began 5 years ago and still hasn't ended. She is currently working on getting her CPA. She's done more than any person can ask for.

She started a 5x5 tournament at Purdue to show inclusion and proving that we are people not people with disabilities but people. She also started Carmel's unified program that is now nationally recognized.
Rene, Putting Athletes First
Rene is the administrator of the Paralympic Center in Mexico, and ever since his first day on the job, he's shown that having a disability does not mean having limits, participating in all sports and disciplines, as well as work areas. He has created a micro-business where women with Down syndrome and physical disabilities can work in the cafeteria, as well as implementing many changes to increase equality for users of the facilities, showing through his work his support of full integration with people with disabilities.

He fully supports Special Olympics with Young Athletes, workshops for volunteers, sports clubs and the creation of a National Basketball League. He reached out to us for the first Special Olympics Rhythmic Gymnastics Cup Yucatán 2019. He is a person that always puts Special Olympics Mexico Athletes first, allowing us to shine.

Jenny, Inclusive Leader & Champion!
Jenny is a remarkable advocate, champion and ambassador of inclusion all around! Though she's been involved with Special Olympics for several years, I only started working with her closely in 2017 preparing for Special Olympics 50th Anniversary events in Chicago. Since then, Jenny has recently joined Special Olympics International's Board of Directors and has continued to help provide strategic guidance for our global movement while also enabling us to bring in new corporate supporters to aid in funding our critical work.

Jenny is the living example of being an inclusive leader. She is authentic, kind, brilliant, loving and has an unending drive to help us create inclusive communities for people of all abilities around the world.

I am so proud to work alongside Jenny and even more honored to be able to call her a friend!

Mari, Great Attitude
Mari loves Special Olympics. She started when she was 12 yrs old. She made a lot of friends and won a lot of medals that year. She has a positive attitude. And she likes to cheer people on when her peers are competing.
Christopher, Great Friend
Christopher has been in Special Olympics a long time. He loves winter sports and softball. He is a great competitor.

He tells people 'good job' even if they didn't do as well as they feel they should have done. He is a great person to be around.

Barbara, the Best Friend!
She just this is my best friend forever since I've known her at Loveland and we've been there for each other every day, bridges with each other.

She's just my best friend, my sister to me. She does a lot!!

Kelly, the Best Mom!
Back in December of last year, she had a brain injury. She was in the hospital and was unconscious for 2 months.

She is now home and is recovering and doing better. Her 1st outing was to see me at SODC's all-star game with the Mystics/Wizards. She supports me so much with Special Olympics.

Jeffrey, Creating Music & Joy
Jeffrey is a musician and music therapist who runs the band Rock n Rollers where my nephew plays the bass guitar. Using the power of music, Jeffrey has helped to transform the lives of many kids and brought immense joy to families and the community.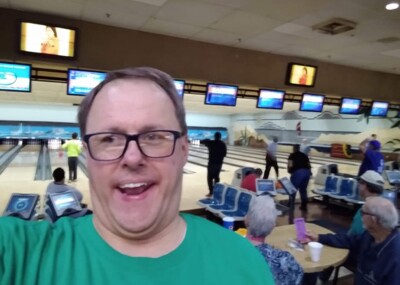 Kyle, Bringing Smiles
I met Kyle when he worked at a law firm distributing mail each day. He always brought a friendly "hello" and a big smile to work. Kyle ate at one of the BBQ joints I owned and would always compliment me on the food. Eventually, he found a higher calling with Disability Rights, and now assists others who are disabled and engages in lobbying on behalf of disabled individuals. Kyle loves to both swim and bowl. He also likes to cook, and he shares his recipes on Facebook. I, along with many others, consider Kyle a wonderful friend!

Thandeka, Key Advocate in Zambia
Thandeka has been very instrumental in the fight for inclusion of people with disabilities in activities and programs that do not take into consideration people with intellectual disabilities (ID).

She has engaged her ministry, including the Minister of Sports, to start ensuring sports infrastructure, tools and games are friendly to people with disabilities. She has also advocated with the Ministry's Permanent Secretary to engage organisations to have input on policies that favour the inclusion of people with disabilities.During the COVID-19 pandemic, she has engaged government to sponsor the health and fitness cards for athletes and partners. Overall, Thandeka Grace Soko has been key in ensuring inclusion for people with disabilities in the Special Olympics Zambia program.

Shrey, Amazing Son
Shrey joined SO Bharat in 2008. He loves sports, in general. He has played cricket, cycling, softball. He participated in Cricket at the inaugural Asia Pacific Regional Games in 2013 with his team winning a Silver medal. He was the Vice Captain of the Soft ball team that played its inaugural round at the Special Olympics World Summer Games held in LA, USA in 2015. His team won a Gold Medal in a match played against SO Australia.
Shrey did not speak in the early few years of his life, a problem that may be attributed to a birth defect. His parents had no one to guide them. At the age of 1, he spoke just 1-2 words, which also stopped. People told his mother to place him in a Mental Hospital. Why invest energy in disciplining him, as he would never improve? Family members also refrained from inviting us for get-togethers to avoid tackling Shrey. Even my husband sometimes asked me why I did so much for him. There were moments when I felt so alone. What others said hurt me but when I used to see Shrey's face, it gave me positive energy. Nothing negative really affected me. I knew that what I am doing for my son is right.

When I recall all this it makes me feel even more proud of Shrey. Shrey participated in the Athlete Leadership Conference held in Singapore, tapping his communication abilities. He participated in the Athlete Leadership Workshop which was held in New Delhi. It is ironical how he lacked speech in his early childhood and now he shows a potential to communicate well; there was a time when his parents had lost hopes of him talking at all. In December 2017, Shrey was selected as a very first member of the Special Olympics Asia Pacific Regional Athlete Input Council (AIC) from India. The story goes on as he continues to grow and reach out to more athletes to achieve their higher capabilities!

Garrett, Athlete & Official
In the four years that Garrett has been involved in Special Olympics Washington, his contributions to the movement have continued to grow. After moving to Issaquah, Garrett joined a local Special Olympics soccer team and right away his Special Olympics career skyrocketed as his team advanced to the 2018 Special Olympics USA Games hosted in Seattle!

Shortly after the USA Games, he got his certification to officiate in soccer and was invited to referee at the 2018 Special Olympics Unified Cup in Chicago. He was then selected to attend the 2019 Special Olympics World Games in Abu Dhabi as one of only three athlete referees to be a part of a leadership experience in which Special Olympics athletes served in key roles during the Games.

When asked what he would say to new athletes coming into the movement, Garrett says, "Know that we mean business; we are legit, and once you get your foot in the door, you never leave!"

Elaine and Rachel, Gymnastics by Zoom!
Coach Elaine and Coach Rachel have taken an evening every week during lockdown and held Zoom practices for our grade school girls' gymnastics team! They are an inspiration!

Hanks HS Unified Floorball—and More!
Ricardo Rodriguez, Aira Dolz, James Rollins and Devonte Cook began a Unified Floorball Team at Hanks High School for the very this year. They played competitively for the first time in San Antonio and won the tournament! They will now represent the United States in Floorball at the World Winter Games at Kazan, Russia! They also coach Unified Basketball, Unified Flag Football as well as Track and Field, and Bocce ball. Their countless hours in volunteering to advocate for all our athletes and promote inclusion is invaluable to the students, campus and community.

The world of inclusion even provided an opportunity for one of inclusion players to be invited to play for the United States Under 19 National Floorball Team!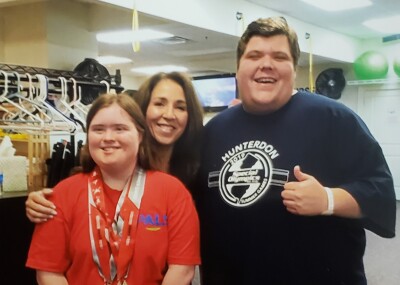 Janet, Including 'Every Body'
Janet is the owner of Healthy U Fitness Studio and the founder of Certified Fitness For Special Needs. We are an inclusive fitness studio, a nonprofit organization dedicated to providing fitness programs to all members of our community.

Janet's compassion and sense of connection encourages individuals to build a healthier lifestyle for themselves. Janet has continued to provide virtual videos during the Covid pandemic. This has enabled our community to feel connected and important while maintaining a level of fitness.

Janet has gone above and beyond to encourage and provide "every body" a place to accomplish healthy habits and a social connection. She is a champion!

Shelly, Creative & Tireless Leader
Many adjectives define Shelly Henry, co-founder of the Coastal Navigators, the Special Olympics team from Coastal Opportunities, based in Camden, Maine. After decades of helping coach the dozen or so team members in a variety of winter, spring, and summer sports, she remains enthusiastic, creative, empathetic, tireless, organized, resourceful, and decisive—just for a start. Thanks to her, team pride is huge!

Tennis gear is broken? Team jackets are looking worn? T-shirts are needed? Shelly's on it, spearheading fundraising. She's been particularly successful (working with former staffer Bill Garver) with an annual December Spaghetti Supper and Auction, which has brought in thousands of dollars to support the team members as they travel within Maine for the Special Olympics Winter and Summer Games.

And that's only how Shelly uses her spare time! For her day job, she's the longtime supervisor of the 6-room Vera Brandes Group Home —scheduling staff, organizing meds, and planning work and outings for the home clients. The 2020 coronavirus pandemic of course has scaled up everything, but Shelly has been a trooper in coping with the crisis and maintaining stability for the residents. Shelly is indeed a Champion of Inclusion!

Logan & Maya, Champions…Even Remotely
Logan and Maya are great champions of inclusion. Our school had to go to online classes on March 13. Logan and Maya wanted to find a way to keep their Unified Champion program together during these uncertain times. They decided to create challenges for athletes, partners, and the unified champion club.

Since everyone was confined to their homes, they wanted to be able to keep everyone active with different topics to include their families and friends. They teach a certain dance or select a theme and challenge the club to send in videos. They then edit all of the submissions and create a video. On social media they created an account named UnifiedGeneration54 on TikTok. They have continued to do different challenges throughout the summer and included other Special Olympics athletes and partners. Everyone looks forward to different challenges and they all get so excited when they see the videos they produce.

They continue to amaze even though Logan graduated and Maya volunteers with the club because she is on Hospital Homebound they have continued to unite everyone throughout the summer and look forward to expanding to including even more athletes and unified champion programs. This is one example but please go to TikTok and see all of the great videos they have made at UnifiedGeneration54.

Alyssa, Always There For Us
Alyssa is my hero, She has been there for me at the Special Olympics Summer Games and she let me do the Solar Plunge With her and she let me be on her team for the Special Olympics Torch Run. I think she should be the Champion because she is always there for the athletes when they need help.

Terrel, Workplace Champ
Terrel creates a joyful workplace where everyone feels included. He teaches us that no matter what is going on, there's no reason not to be kind to each other.

Aakriti, Working for Change
I am Aakriti, a post graduate engineering student, and youth and sibling leader at Special Olympics Bharat. My younger brother Alankar is a person with Down syndrome. He's a Special Olympics Bharat athlete for 6 years now and an Athlete Input Council member which makes me so proud of him. This is how I connected with Special Olympics Bharat state program and as I got in touch with so many individuals with intellectual disabilities, their families, mentors, siblings, and school teachers, it made me realise the need of an inclusive world.

Being an Innovation Grant Project recipient, I tried to do my best to advocate, encourage, improve, empower, lead, motivate, and inspire youth to join Special Olympics Bharat and contribute to the movement. I attended the Siblings and Family Involvement workshop by Special Olympics Asia Pacific in June 2019 and got so many ideas to bring a change in the society I am surrounded by.

I got on-board some main-stream, inclusive and special schools in my state to host and let their school children play with persons with intellectual disabilities so that they learn from each other and to make authorities and adults realise the need of inclusive schooling. I could also manage to team up with an organisation to voluntarily teach dance and yoga for fitness to athletes of all ages. Also, with the help of youth leaders from my college, a highly reputed institute of national importance which has a non-profitable organisation for underprivileged children, we conducted several unified activities like stamp making sponsored by the Indian Post and UNICEF, bocce, football, cricket matches, athletics and dance events to name a few. We have conducted open dance workshops led by athletes in malls and auditoriums with huge gatherings. Together we have organized, volunteered, and participated in many sports, dance and fun events. All my inspiration comes from the determination of athletes and the zest to present their talent to the world.

Because of Special Olympics I came in contact with so many inspiring athletes and learned determination, confidence, and perseverance. My brother and I got a chance to bring a differential change in the society and empower so many friends, brothers and sisters we met so far in our journey with Special Olympics. Now, it is my responsibility that our athletes, their siblings and families are accepted, uplifted and they do not have to face prejudices or have to fit in standards of the society's normal.

Simran, To Create an Inclusive Society
"Special Olympics is a very integral part of my life. It has played a major role in my personal development to help the community better. Inclusion for me is not just to bring the athletes to the dance but to organize the dance with them. I have learnt to incorporate everyone's opinion while making decisions that affect my whole team. I have learnt to acknowledge my own limitations rather than limiting the people with Intellectual disability. While working with PWID I have grown more patient. I think this overall change in my mindset, learning practical leadership skills and building inclusive environment is acting as a catalyst as well the driving force. I feel very content and the happiness that comes by leaving a positive impression in someone's life is unbeatable.

Special Olympics as a community and movement gives me the strength to keep moving forward. When I decided to volunteer with Special Olympics almost three years ago, I never expected this journey to turn into a lifelong love affair. Special Olympics is like a one-way door. It gets embedded in your soul. I have since been involved in organising numerous orientations and events in India, including the National Youth Summit and a community event called Pratishtha, where thousands of people with and without intellectual disabilities gather to celebrate inclusion. But the most satisfying part has been witnessing the growth of youth and athletes into leaders for inclusion. The future I see for people with intellectual disabilities is a simple one. I imagine them going to school, getting good training, staying healthy, getting good jobs, getting married and living their best life. I will not stop working for the cause until I see people with intellectual disabilities working in different professional fields and being self-sufficient. I'm committed to transform this society into not just an integrated one, but an inclusive one.

During the pandemic, I have realized that there are many challenges we face but in a way I now experience what PWID feel most of their lives. I can feel the true sense of empathy now. I am able to be in touch with so many athletes and youth leaders without ID. I am able to have a closer look into their lives and know what they actually need. I am able to conduct more fulfilling events and workshops for them which help me grow as a person as well. To my surprise, I have seen many athletes being advocates to provide correct information about the pandemic to their communities. The dedication they have towards sports is un-parallel and never fails to motivate me.

Rithik, Athlete Leader
Rithik started out with no confidence: "It was difficult for me to read and write anything. Some boys of my age used to bully me. I was a boy who always lacked confidence and ability to speak and express my views. " Learning sports—especially cricket—helped me a lot. My best days began in 2011 when we met my Special Olympics coach and my real and meaningful journey began rolling. SOB came as a blessing into my life and changed me completely. I became more responsible, Independent, fearless and confident.

I am now an Athlete Leader and Input Council Member of SOB. I have received many Gold, Silver, Bronze medals, and certificates. I have had represented India as an Athlete Leader. I went to Australia, Bangladesh to pay cricket representing my country. I also got an opportunity to visit USA and Baku in Youth Summit in 2015 and 2018.

Recently, I have completed my Baku Project in Jaipur. We have executed many successful events and I look forward taking bigger responsibilities now. In my free time I like visiting schools to spread awareness about sob so that I can find an athlete leader like me to come forward and shape his life like I did, many years ago.

I am now a confident athlete leader who knows how to speak as I love talking and discussing various ideas. I am a happy go getter, full of life, enthusiasm, positive leader. I want to work and get all my special friends who need help and support to bring them to SOB and change their world. Now, everyone in Special Olympics knows me and I truly love and admire everyone.

Besides being a part of SOB, I have also build awareness by conducting Unified Programs, Youth Activations Program and Unified Sports Festivals by promoting on all social media platform. We have also executed committee outreach program in my residential society to sensitize the cause and the need to reach all Youth, Athletes, families, and everyone whoever wants to come forward. I got a food sponsor too for my Unified Sports Festival held in January 2020. My dream is to make Special Olympics Program bigger than the Olympics held in my country and one day we will.

Harry, Super Dad
Harry is a dad to Sydney, who is a 17 yrs old young lady who has Down syndrome. For the past 7 he has coached both soccer and basketball for the Seven Hills Special Olympics teams. Not only does he coach, he also started the Leicester Special Olympics day games 5 years ago and it just keeps getting bigger and better every year.

He continues to find companies to support our team and even supplies all children in the district who participate a uniform of shorts and T-shirts and staff that help a T-shirt.

Pedro, Unified Partner & Coach
Pedro became involved in Special Olympics approximately 2 years ago. There was a need for a coach for Unified sports and he willingly stepped up. He loves getting out there at practice, being a great leader and a partner to his athletes. Both of his children are now participating in Unified teams. Coach Pedro sets a great example of sportsmanship! He is incredibly proud of what the athletes have accomplished and he is looking forward to getting back into his routine of practice and games with his crew. We are proud of all he has accomplished, along with this wonderful athletes!

Isabelle, Helping Those in Need
We are very thankful for people who continue to lend a helping hand to our athletes and their families who have been greatly affected during this pandemic. When the lockdown started, work stopped and left families unable to secure food and medications.

British School Manila (BSM) high school student Isabelle Ong took the initiative to seek donors of rice so she could help Special Olympics athletes in Metro Manila. Her intentions were rewarded, she was able to get 900 kilos of rice donations! With the help of her family, they repacked the rice and started delivering directly to the homes of each athlete. The rice donations will be good enough for a 2nd and 3rd round of distributions in July and August.

A special thank you also to these companies for their generous donations: Universal Harvester, Inc., SL Agritech Corp., and Sidel Industrial Packaging Corp.

Isabelle proves that no matter how young you are, you can always help make this world a better place.

Jordan, Frontline Hero
Jordan has been working at Rose's in Franklin Virginia for several years. He worked right on as usual during the pandemic, even took on more hours to help his store out during the pandemic. Kudos to Jordan and other athletes working during this pandemic!

Greg, Athlete & Role Model
Greg is a five-sport Special Olympics athlete. He is the immediate past and current year Commander of the Sons of the American Legion Squadron at Steadman-Keenan Post 96 in Brunswick, MD. Greg also is a member of the Post's Honor Guard serving on the Rifle Team and as our Bugler when needed. When there is work to be done around the Post, Greg is always there to volunteer to help. His service and dedication to the veterans of our nation is a testament to this young man's values and integrity.

Mr. Valli, Inclusive Health in Malawi
Yakub Valli supports Special Olympics Malawi athletes through his dedication to funding Healthy Athletes and helping them receive needed follow-up care. He has supported many health screenings, courtesy of Malawi Relief Fund (UK). Mr. Valli is a Champion of Inclusion!

Coach Kevin, Including Everyone
Coach Kevin and the Northwestern Women's Volleyball Team have always tried their best to include Special Olympics athletes in their games. Coach Kevin even does team clinics with our athletes, plus the Polar Plunge! (Nominated by Special Olympics athlete Lisa Noble)

Sherice, Advocate & Champion
Sherice is a wonderful advocate who speaks up for people with disabilities. She's a winner of the Achiever of the Year award with The Arc Pikes Peak Region. She stays involved with Special Olympics, and recently did the 30-minutes distance Virtual Summer Games Track and Field event—and won second place. She's also a talented dancer. Go Sherice!!

Dr. Parrish, Inspirational Leader
Dr Parrish has been the Special Education leader at Colgan High School for 5 years. He recently accepted the award from the Special Education PTA for his dedication to inclusion in his school. Dr Parrish and his students created a robust group of teenagers with and without disabilities in the school to support each other in education and in recreation. TheFin Friends (@FinFriends) continued to meet every Friday for community/socialization/support within weeks of our community's total school closure and state mandated lockdown. Dr Parrish did not allow the Fin Friends to suffer under the heavy weight of social isolation due to Covid. He continued until the end of the school year and continues still to host weekly videoconferencing meetings with between 20-50 students to bring them together in laughter and comaraderie. He will not allow their mental health to suffer and he is a hero to his students and staff at Colgan High School.

He makes possible a school culture of inclusion and acceptance for all students to freely visit their peers in self contained classrooms or invite all to participate in general education classes. Inclusion is his mission without ever needing to use the word. Inclusion is action to Dr Parrish.

Jenn: Joy & Connection for All
Jenn Panattoni has long been a passionate champion of inclusion. Knowing there was more that could be done, she worked to establish a new role in gaming: managing charitable partnerships for the Xbox brand. Her passions for gaming and good empower Xbox gamers to exercise their commitment to helping others through the power of play.
She believes that play is a fundamental human right, enabling millions of gamers around the world to connect, explore new places, learn about history, or just have a good time with friends. When the opportunity arose to produce Xbox Gaming events for Special Olympics USA Games in 2018, and the
2020 virtual gaming event
, she leapt at the opportunity to bring together the worlds of gaming and social good.
Jenn is on a mission to ensure that people of all abilities are able to play video games, whether it be playing competitively or casually, and she's not alone. She is inspired by the groundswell of support from her fellow Xbox and Microsoft employees to roll up their sleeves and apply their skills to help make these Special Olympics gaming events something truly memorable for the athletes. That commitment extends to ensuring everyone, no matter their ability, has access to the connections and joy that gaming creates, especially during times like these.
Barbara, Best Mom!
My champion is my mom who has supported me and my family through nearly 5 months of lock-down during the pandemic by tutoring my young son while pre-school was shut down and no lesson plans were available.

My husband and I have been balancing child-care, work and our household since early March and without her I'm not sure what we would have done. Love you Mom!!

Meghan H., Helping Others
She has supported me with mentoring Ben. She has taught me about inclusion and is always there to help others.

Meghan is such a good champion for inclusion, particularly in areas like MATP, Siblings, Youth. She is always looking to be the voice and help for the most vulnerable.

Mardo, Inclusion Leader
My daughter, Claire Kirschner, a past Special Olympics participant, has been studying Tae Kwon Do at Mardo Muralles Tae Kwon Do Academy in Portsmouth, RI, since approximately 2010. She has risen through the various levels, and is now a third-degree black belt! From the very beginning, Marko has been a true Champion of Inclusion. He has fostered Claire's discipline and self-esteem. He has coached her to a high degree of coordination. And, most of all, he has promoted her leadership skills by inviting her to be an Assistant at the Academy. Mardo is a fine example of an inclusion leader.

Bruce, Role Model for All
Where or how do I begin? I met Bruce at a Special Olympics event held at Sun Valley Bowl in Lincoln, NE. Before being introduced to him, I could see a man who had the admiration of all his clients. I saw how Bruce interacted with all the Special Olympics bowlers; rooting for them, giving them high fives, praising their successes, encouraging and motivating them, and just having a blast with his people. When I saw all that, I said to myself, "that's how I want to be." Involved at the heart level. There for them and only them, all else of secondary importance. Bruce kept his people safe and happy, proud and accomplished.

Bruce had to retire from Mosaic and I worked at Mosaic for 3 wonderful years before having to leave to take care of my wife. That broke my heart. But there is a legacy Bruce and I proudly share and that is our clients remember us as do their parents or guardians. Our precious clients are glad when we meet out in the community. Bruce was an exceptional D.S.A. and supervisor. He loved what he was doing and set the highest standards for giving his clients what they deserved. Bruce was an inspiration to us all.

Avi, Master of Inclusion
Master Avi Rome is a true champion of inclusion! He's a 4th Degree Black Belt and holds a degree in Integrative Studies with a concentration in Creative Arts and Therapy from GMU. This degree combines the fields of Psychology, Recreational Therapy, and Body Mechanics. Master Rome has over 15 years of teaching experience, with many of those years spent working with students who have special learning needs.

He is responsible for the Adaptive Tae Kwon Do Program at Arlington Kicks designed specifically for children with special needs. The class is structured for children who have Autism Spectrum Disorders or other Developmental or Intellectual Disabilities.

Students receive individualized instruction while learning to excel in a group setting. These weekly half hour classes will give students an excellent opportunity to improve their motor skills, coordination, focus and self-control through Tae Kwon Do drills and games.

Leslie, Helping Those in Need
Leslie has been spending her time driving mental health care patients around and to and from appointments. Leslie is a real everyday hero!

Kevonte, All Grown Up!
When Kevonte was born, he was four pounds and one ounce. He was also hooked up to all kinds of machines, and after 3 weeks he was able to come home from the hospital. After taking care of my son for all these years, I've seen him grow in to a handsome 24 year old man, and I wouldn't trade him for anything.

Crystal, Sportswoman!
Crystal plays some sports like basketball, bowling, softball and flag football. She's good at doing skills.
Jack: So Special
Jack has been in competition since he was 5 years of old. He loved activities and would really want this. He deserves this award for a memory. He is so special to me.

Patrick, a Unified Vision!
Patrick created a team grouping together a number of young people regardless of his/her ability, gender and any form of discrimination! With the spirit of Special Olympics, we initiated Unified Sports in football and bocce; we also welcome and visit families of people of determination.

DeAnna, Count on Her!
DeAnna has worked at Shop-rite for 5 years. Since the pandemic, DeAnna has not taken off a scheduled day! DeAnna works 7-11AM and gets ready by herself and is showered, dressed and ready for work by 5AM for a 7AM start!!

Megan, Leader in Sports & Health!
Megan was the first person with a disability to be hired at the Jacksonville Chamber of Commerce. She is the inspiration for the Chamber's #20in20, encouraging businesses to hire people with disabilities. Since Covid hit she has been busy teaching Zumba every Tuesday on Zoom through Special Olympics Florida.

She is a Health Messenger, Global Messenger and Athlete Leader. She participates in golf, SUP, bowling, swimming, equestrian, gymnastics track and field (running the unified 3k with her niece). Her favorite sport is surfing.

Kevin, Giving Back
My brother has had some strings of bad luck on his side in his life: first with a head injury during the Gulf War in July of 1992, and his second time in June of 2008 when he fell off a roof, compressing his spine and landing on his feet and not breaking any bones. But then having to learn to walk again, He uses crutches to get around today. And now he's on his third health issue and he's staying busy, even with the trips in and out of the local hospital or a trip two hours away to the Maine Veterans Affairs Hospital.

My brother makes everyone proud of him. He works with the Harrison Lions Club and he is one of the Founders of the Harrison Food Bank. He will tell everyone he's not doing what he does for a pat on the back, but to make sure that people don't go hungry, because NO ONE SHOULD GO HUNGRY is what he will tell you. And the Lions Club he wants to help others get glasses or hearing aids or just give back to people in the town and he wants nothing in return for what he does.

Clara, Generous Coach
Clara has selflessly given of herself time and time again for our kids. She has relatively few corporate sponsors, so she pays for it all. She has been my boys coach for at least 20 years with the Wallkill Panthers.

Tina, Dedicated Caregiver—and More
My sister Tina has been taking care of our niece since our youngest sister was killed by a SPEEDING car driven by a teenager in Florida. Our niece was in the car and was injured with a tragic brain injury. I moved Kodi, our my niece, in my house and Tina was there 24/7. She even took her to Florida to get her Hyperbaric chamber treatments. She spent 6 months there and even when she came home, she spent everyday with Kodi. She learned sign language just for her and Kodi. She refused to hold her back from anything. They roller skate, run 5k runs as Tina pushes Kodi in her wheelchair, they bowl, go camping. You name it, they did it!

All Siblings!!
I nominate: All siblings. There is a lot that goes along with being a sibling of a brother or sister with special needs. From dealing with their issues, helping out their parents and sometimes lack of parental time with them.

Thank you all. Your parents couldn't do it without your support. Thank you!!!

The Best Program
Once we all had to go on lockdown on Friday, March 20, 2020, my day program was still and continues to still work in the office, providing daily phone calls to check in on all of there consumers on a Monday-Friday basis.

I feel truly blessed that I can be apart of the In2Vision day program. I am apart of the day program in El Monte.