Matthew
Valentine's Day is a day meant to share with your significant other how much they mean to you, the difference it makes having them in your life, and most importantly how much you love each other. We would like to share a little bit about how we met each other and the exciting experiences we have gotten to share together. Crystal and I met when we were in high school together in 2005. We were good friends for a few years and decided we would like to start dating. We are proud to say we are high school sweethearts and have been together for 10 years. Over the years, we have enjoyed many neat experiences like going to prom together, taking a trip to Hawaii, attending different Special Olympics functions, and enjoying many holidays together.
Most recently, we just got married, and it was the happiest day of our lives. It meant so much to both of us because with both of us having a disability, we didn't think we would have this experience in our lives. On the day of our wedding, I was so excited to see Crystal walk down the aisle in her beautiful dress. I realized I would be able to spend the rest of my life with not only the love of my life but also with my best friend. I'm so happy Crystal is a part of my life. She is always there for me and a big reason I have been able to achieve so much in my life. She is very supportive, funny, and caring, and I have enjoyed all the experiences that we have got to enjoy together.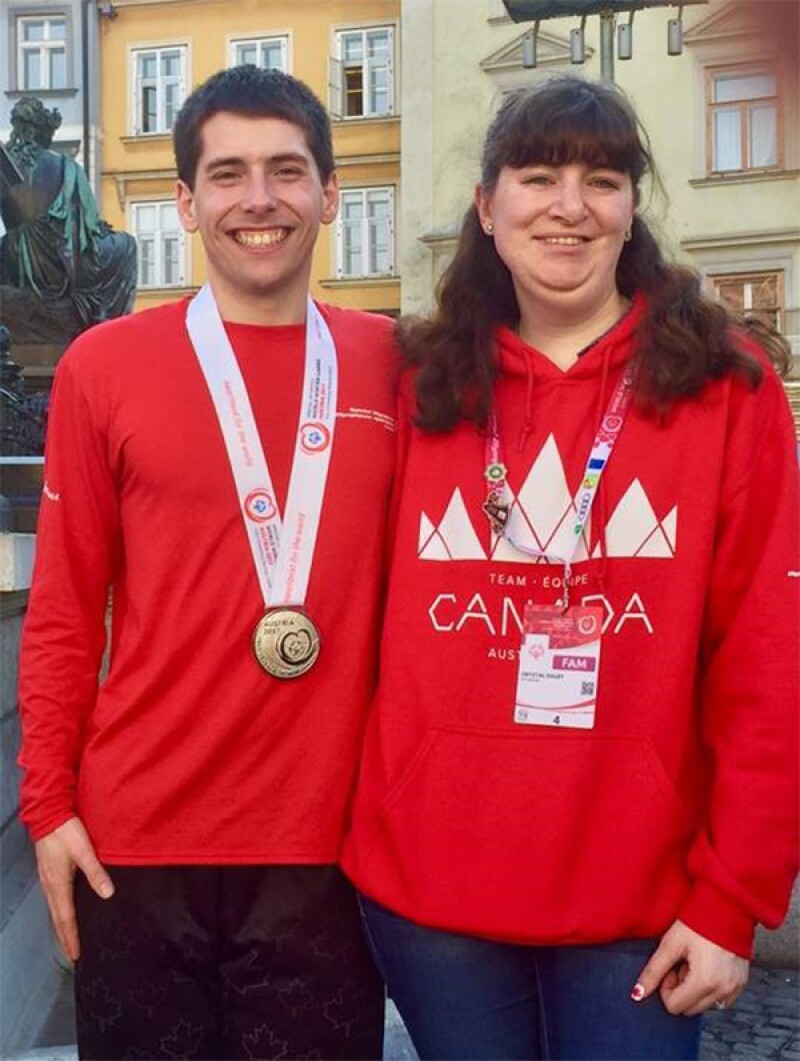 Crystal
Meeting Matthew was not one of the best things that has happened to me. It's the absolute best that has ever happened to me in my entire life. I honestly didn't think that there was going to be anyone out there for me because of me having a disability. Whenever I would see other people together, I had always hoped that just maybe there's someone out there for me. For the longest time, I would make myself stop thinking about it because let's face it, who would want to be with someone like me who has a disability?
Things all changed for the better going into high school. We first met back in high school when we started grade eight back in September 2005. For the longest time, we were great friends, and then the more I got to know him, I thought just maybe we could be more than friends. We started dating in grade eleven in 2009. Things have been great since we have been together. Matthew has always inspired me not only to be a better person but also to help others who have disabilities as well. We both share the same passion for travel, sports, and animals. I love being able to go watch him at his sports whether he's competing or just at practice. I also love being able to go watch him do a speech in front of people.
This past September was amazing getting to finally marry my best friend. Our wedding day couldn't have been any better in front of all our closest family and friends. Getting to see how handsome Matthew looked as I walked toward him down the aisle was amazing. I'm so happy that I have Matthew in my life. I really don't know what I would do without him. He is always there for me when I need him through all the good and the bad. Not only is he my best friend, but he's also my rock and the love of my life. Meeting him was one thing but getting to marry him tops it all off. Knowing that I get to spend the rest of my life with my best friend is like the cherry on the top of the cake.

Wishing everyone a Happy Valentines Day,
Matthew and Crystal Williams