Special Olympics Around the World
April 2009 - The quality of training received by Special Olympics athletes is largely dependent on the resources available to their coaches. Dozens of coaches in the Coast province were invited to train on the finer details of coaching athletes and ensure that they get the best out of the athletes.
March 2013:
A Special Olympics table tennis seminar in Warsaw, Poland drew participants from 12 countries, and gave them all a chance to learn fine points of the game and also to learn how to integrate people with and without intellectual disabilities into practices and competitions.
Learn more
March 2013:
Focusing on quality coaching, national sports directors, coaches and staff from the East Asia and Asia Pacific regions attended the inaugural Unified Sports Training in Singapore on 1-4 March, 2013. Unified Sports is new in these regions; the training offers a structured approach to integrate teams made up of people with and without intellectual disabilities, to build social inclusion.
Learn more
March 2013: Special Olympics athletes met with their representatives in Congress on the annual Capitol Hill Day. Tanner Hrenchir, a Special Olympics athlete from Missouri, shared photos of himself with Missouri Senator Roy Blunt, left. Hrenchir was joined by Special Olympics CEO and Chairman Tim Shriver.
February 2013: During the annual NBA All-Star weekend, Special Olympics athletes, such as Abigail Johnston (in red, foreground) of the United States and Massimiliano Priolo of Italy (yellow, guarding) played with NBA stars and legends like Dikembe Mutombo. The game showcases the Special Olympics Unified Sports initiative to form teams of people with and without intellectual disabilities.
February 2013: Michelle Kwan and Yuna Kim, both Olympic gold medalist figure skaters, performed for the closing ceremony of the 2013 Special Olympics World Games. Professionals and Olympic athletes keep close ties to Special Olympics and offer their deep experience to improve the skills of athletes with intellectual disabilities in many sports.
Photo by Diego Azubel
January 2013: The Special Olympics World Winter Games kicked off in late January and athletes with intellectual disabilities competed in skiing, speed skating, figure skating, snowboarding, floor hockey and floor ball.
October 2012: Special Olympics Ambassador and multiple LPGA Tour winner IK Kim conducted a golf clinic at the Jack Nicklaus Golf Club in Songdo with Special Olympics Korea athletes. Following the clinic, she signed hats for all the athletes.
October 2012:
South Africa was host to the first Africa-wide regional football tournament for Special Olympics athletes. Teams from 14 African countries competed in the regional 7-a-side football tournament.
See stories from the event
Photo by Charles Nyambe
October 2012:
Six-year-old Josh never knew of Special Olympics until the Trans Tasman Tournament between Australia and New Zealand came to his hometown in Cairns. His sister heard about the event and took him to watch athletics, where Special Olympics Australia CEO Gill Stapleton invited him to be part of the unified relay events. Josh has now signed up to the local program where he looks forward to starting his athletics career. The Tournament was held 8-12 October 2012 in Cairns, Australia.
More about the Tournament
Photo by Lucas Wroe/WinkiPoP Media for Special Olympics Australia
September 2012:
Rose Pleskow, a Special Olympics athlete from Virginia, waits for the moment her relay partner's hand touches the wall before diving in. Her partner was her mom, Susan Pleskow. The relay was a unified event, in which people with and without intellectual disabilities compete on the same team. Learn more about the
World Aquatics Invitational
Photo by Will Schermerhorn
August 2012:
Afghanistan's second national games drew 300 athletes from throughout the war-torn country. For three days, athletes with intellectual disabilities competed in track, cricket, softball throwing, football (soccer), bocce, handball and other sports. A Canadian volunteer with the Special Olympics Law Enforcement Torch run tells his
first-person story
, describing the event as "amazing."
Photo by Special Olympics Afghanistan
June 2012: Special Olympics Athlete Stephanie Handojo of Indonesia will be one of several Special Olympics athletes honored by carrying the Olympic torch in connection with the London Summer Olympics in July. Although the Olympics and Special Olympics approach their competitions differently, they share respect for athletic achievement, courage, determination and sportsmanship.
June 2012: It's summertime in the United States and many Special Olympics state Programs are holding their summer games. In Virginia, the summer games included track events, softball, weight lifting, swimming and tennis. Most events were held at the University of Richmond, host of the state summer games for 30 years.
Photo by Will Schermerhorn
June 2012:
Special Olympics golfer Matt Duman of New Jersey sinks a putt during a golf clinic held by three-time LPGA winner I.K. Kim. She's one of several top-notch athletes and highly regarded celebrities who support Special Olympics' work for athletes with intellectual disabilities. Kim's high profile in the golf world will help Special Olympics grow participation in golf around the world.
Learn more about Kim's new role
.
Photo by Kristin Hughes
May 2012:
Steven Gardoni (at right), a Special Olympics Coaching Fellow from the United States, asks members of a Special Olympics Serbia team to sign his volleyball. The SportsUnited Division of the U.S. Department of State is funding an international coaching fellowship to recruit and train 20 Special Olympics football (soccer) and volleyball coaches from the United States, Serbia, and Montenegro.
Learn more
Photo by Jenna Briggs
May 2012: Project Unify is now 'live' in India, starting with schools in Bareilly, Patna and New Delhi. Over 1500 youths (with and without intellectual disabilities) took part in recent event launches in Bareilly and New Delhi, which included a Torch Run, Unified Sports competitions and cultural performances. This initiative empowers youth with and without intellectual disabilities by involving them to form inclusive and tolerant school communities, creating the potential leaders of tomorrow.
Photo by Lynn Tan
March 2012: The first celebration of World Down Syndrome Day by the United Nations drew visitors from around the world. Diana Stolfo of New Jersey, a young woman with Down syndrome who has taken part in numerous Special Olympics sports, gave a speech that was warmly received by ambassadors and Dr. Asha-Rose Migiro, United Nations Deputy Secretary-General.
Photo by Will Schermerhorn
March 2012: With precision and focus, Paige Norton of British Columbia carves a turn in a speedskating event at Special Olympics Canada's 2012 Winter Games. A talented athlete, she is a great example of the high level of skill that athletes with intellectual disabiliites achieve in Special Olympics training and competitions worldwide.
Photo by Megan Grittani-Livingston, Special Olympics British Columbia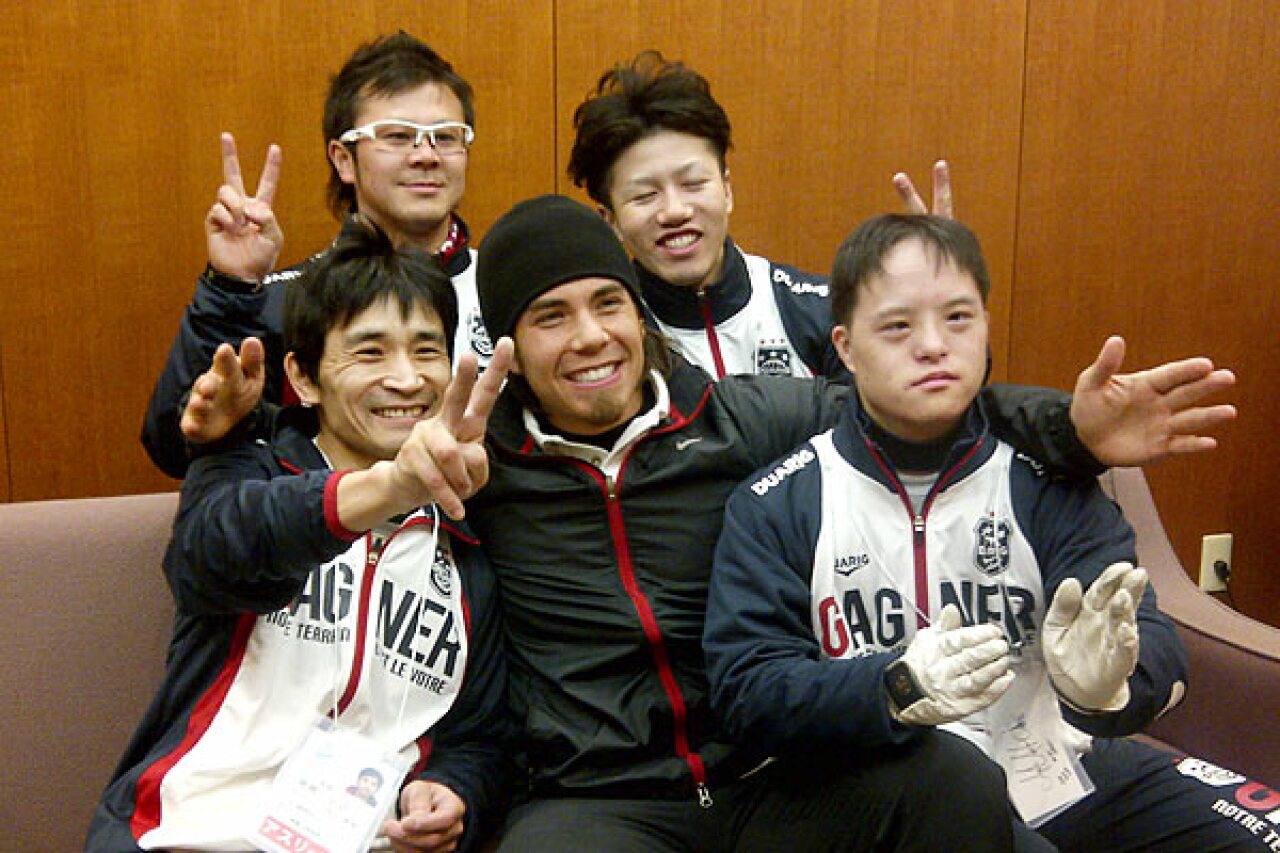 February 2012: "To overcome the devastation in Fukushima, it took enormous courage and dedication of many people," said Sayaka Sonobe from Special Olympics Nippon. A year ago, Japan found itself in the midst of disaster after a powerful earthquake and devastating tsunamis damaged the nuclear power plant in Fukushima. Even so, Japan sent a delegation to Athens for the 2011 Special Olympics World Summer Games, held its fifth Winter Games in Fukushima and welcomed U.S. speed skating champion Apolo Ohno for a set of skating clinics.
February 2012: Special Olympics athlete Salim bin Buang teamed with Special Olympics coaches for Surf N Sweat 2012. The event was not connected with Special Olympics, but showing people with intellectual disabilites they can compete with confidence is a goal of Special Olympics.
Photo by Karyn Tan
November 2011: The first Special Olympics Copa America featured Special Olympics footballers from 12 countries throughout Latin America. The event was part of Special Olympics' Global Football initiative to bring opportunities to people with intellectual disabilities around the world.
Photo by Ricardo Alfieri, CONMEBOL
November 2011: Volunteers from Mattel Corp. enjoyed entertainment as they trained 120 children with intellectual disabilities in the Special Olympics Young Athletes program. Mattel, a long-time sponsor, supports the Young Athletes program to prepare children to take part in sports.
November 2011: Once a year, Special Olympics Singapore invites the community to see what Special Olympics is all about. A boy enjoying a chance to hit a ball could become part of the Youth Athletes program, which prepares youngsters with intellectual disabilities to take part in Special Olympics.
Photo by Karyn Tan
November 2011:
More than 300 athletes with intellectual disabilities and their coaches went to Hubei, China, from Hong Kong, Macau, Chinese Taipei and Korea. Sixty volunteers from Hubei University and Hubei Sport School helped.
Learn More
September 2011:
Special Olympics sets aside a day every year to celebrate the vision of our founder, Eunice Kennedy Shriver. Around the world, people with and without intellectual disabilities play together, fulfilling Eunice Kennedy Shriver's dream that people not only accept but embrace each other's differences. See more photos from
EKS Day in Africa
.
in Athens, Greece, June 2011.
July 2011:
The first Special Olympics World Games open-water swim race started with the swimmers running into the warm water of the Aegean Sea. It was a demonstration event that was very popular with the well-wishers on the shore.
See more photos of open-water swimming
Photo by DIEGO AZUBEL
June 2011: Basketball great Yao Ming lifted a youngster closer to the basketball hoop during a visit he made to a school in Jiuquan, Gansu Province, China. Yao Ming is one of several phenomenal athletes who give their time to take part in clinics for athletes with intellectual disabilties through Special Olympics.
June 2011: The Flame of Hope begins its journey to the World Summer Games in Athens. On 9 June, a Special Olympics athlete lit the flame using a concave mirror and the sun's rays, in keeping with Greek tradition, and passed it to Joanna Despotopoulou, leader of the Games Organizing Committee. She handed it to the first torchbearers, two Special Olympics athletes who are part of the Law Enforcement Torch Run® Final Leg. The torch relay traveled to Istanbul, Cyprus and dozens of cities across Greece before returning to Athens for the Games opening ceremony on 25 June.
May 2011: Charlene Wittstock, the future princess of Monaco and a former Olympian from South Africa, was appointed a Global Ambassador for the Special Olympics movement. She is one of many celebrities and world leaders who take the Special Olympics' message of inclusion and respect to a worldwide audience.
April 2011: The Special Olympics Healthy Athletes program provides free health screenings to athletes in seven health disciplines, including dental hygiene. Here, Dr. Moses Aluteni conducts a dental screening in Windhoek, Namibia. The exam was part of Special Smiles/Healthy Athletes activities at the Katutura Football for Hope Centre in Memory of Eunice Kennedy Shriver.
March 2011: The Special Olympics movement is growing all the time, and in Astana, Kazakhstan, there was an exciting milestone. The country's first national Special Olympics winter games drew 250 athletes with intellectual disabilities to compete in skiing, skating and floorball. As at many major events, Special Olympics Healthy Athletes program provided free health screenings to the athletes. Special Olympics games provide a three-fold win: exciting and healthful sports for athletes, a chance to get much-needed health screenings and a chance for the community to share in the joy of competitions.
March 2011:
Joshua Powell, showing a V sign at the rear of this group, has embarked on a thrilling cultural and geographic exploration. At 26, he's been a Special Olympics athlete most of his life. He recently left his U.S. home in Colorado to go to China. As he puts it: "I have the amazing opportunity to step out of where I had been, both literally and figuratively. In January of 2011 I was invited to come to China to learn how to speak Chinese at a University. Without knowing it, I was about to start an adventure, that I could only dream about in the past. I now have the ability to work at a special school in the city of Changchun."
Read more
March 2011: It was a grand celebration for the 126 athletes with intellectual disabilities who represented Ireland in the 2011 Special Olympics World Summer Games in Athens, Greece. Jonathan Griffin, a Special Olympics athlete, joined members of Irish police services to show off the Flame of Hope. The Law Enforcement Torch Run Final Leg began on 9 June in Athens and covered the entire country of Greece as well as stops in Istanbul and Cyprus, ending on June 25th at the Opening Ceremony in Athens. The Final Leg is an important part of the Law Enforcement Torch Run for Special Olympics, the largest single fundraising activity for the international movement.
March 2011: 300 individuals with intellectual disabilities walked and 300 buddies walked together along the Marina Beach in Chennai, India on Sunday, 6 March 2011. The buddies included high school and college students, medical professionals, media presenter Jennifer Arul of NDTV HINDU, and Indian National Squash team players, including Dipika Pallikal, Joshana Chinappa, and Saurav Ghosal. Many pairs walked holding hands along the 1km stretch to a celebratory breakfast at the end. The event, organized by the Down Syndrome Association of Tamil Nadu in conjunction with Special Olympics Bharat—Tamilnadu, was designed to raise awareness about people with intellectual disabilities.
March 2011: Garret Barnes, a Special Olympics athlete from Maryland, told aides to Sen. Barbara Mikulski a story about a group of teens who used the word "retard" to insult a friend of theirs. When Garrett told the girls how the word offended her, they laughed. Her storytelling was part of Capitol Hill Day, when hundreds of Special Olympics athletes visit their members of Congress to urge continued support. Special Olympics Chairman and CEO Tim Shriver, sitting next to her, wore a T-shirt promoting the Special Olympics and Best Buddies campaign to discourage use of the "R-word." The R-word campaign is a key element of Project Unify, a program that is reliant on government funding for its survival.
Photo by Will Schermerhorn
December 2010: Sid L. Scruggs III, center, International President of Lions Clubs International, joins in hoisting the Flame of Hope at the Special Olympics Costa Rica National Games in San Jose. Since 2001, the Lions Clubs International Foundation's contributions have made it possible for Special Olympics to provide an increasing number of free vision screenings to its athletes with intellectual disabilities. The Opening Eyes initiative has benefitted from annual contributions of over $1 million from the foundation.
November 2010: Football--what Americans call soccer--is the most popular Special Olympics sport, and over two days, a football competition in Jamaica tested 250 athletes with intellectual disabilities in individual and team skills. The Special Olympics Jamaica Invitational Football Tournament pitted athletes from The Bahamas, Cayman Islands, Kingston and Trelawny. One of the joys missing from the lives of many people with intellectual disability is the thrill of athletic competition. Special Olympics' mission is to use sports to bring that joy to all.
September 2010: The theme for the Special Olympics Middle East/North Africa Regional Games was "Together, Anything is Possible." Now that the games have wrapped up, it's clear this wish came true -- the seventh Regional competition was the biggest-ever, bringing together nearly 1,500 athletes from 21 countries, cheered on by some 20,000 spectators. The growth of Special Olympics in the Middle East has been rapid, offering many more people with intellectual disability the dignity of competition.
September 2010:
Special Olympics Programs worldwide held dozens of events to honor the legacy of the founder of Special Olympics and to channel strong momentum toward the future of the Special Olympics movement. In the photo above, Namibian youths play soccer in a new center dedicated to the memory of Eunice Kennedy Shriver.
See the Eunice Kennedy Shriver Day 2010 Slideshow
September 2010:
Special Olympics China's national games got under way with summer sports competitions for athletes with intellectual disabilities. There was also a youth rally for young people interested in celebrating and passing along an appreciation of the many talents and capabilities of people with intellectual disabilities.The Special Olympics presence in China has grown hugely in the last 20 years, and China was host of the Special Olympics World Summer Games in 2007.
Learn more about the China National Games