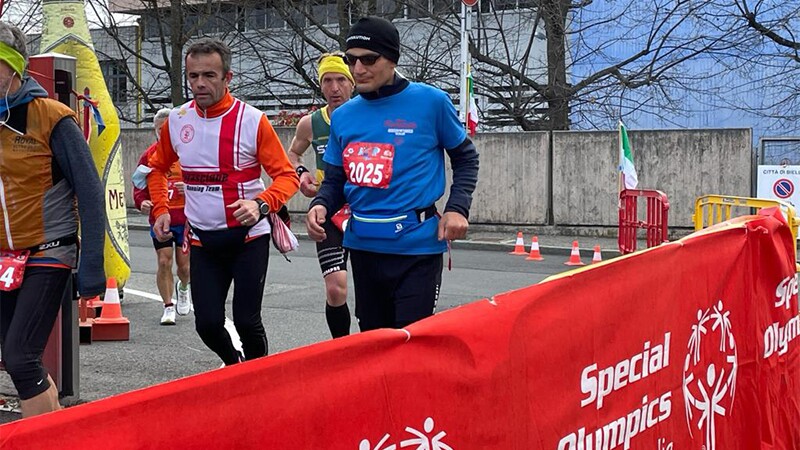 "Have I made it?" Simone Perona asked over and over again as the 24-hour mark rang, closing the BiUltra ultramarathon and officially making him the first athlete with intellectual disabilities to ever compete in this race. When signing up to the BiUltra, the annual ultramarathon run in Biella, Northern Italy, Simone had his mind set on covering 100km; but by the end of the 24-hour long run, he was overjoyed to discover that he had gone way beyond his goal. Upon finishing, Simone had covered 120km, which earned him the 63rd place (out of 285 participants). This was not only an incredible personal achievement for Simone, it also offered spectators and runners alike a new perspective on people with intellectual disabilities.
The 35 year old Special Olympics Italy athlete has been in love with running for a while and has already achieved significant sporting success. Starting with the 5,000m and 10,000m run, Simone soon moved into competing in the half marathons, setting a personal record of 1h and 53 minutes at the Brescia marathon. However, one of his dearest sporting memories is competing at the Special Olympics World Games in Los Angeles in 2015, where he won the silver medal! "I cried twice: at the departure and upon arrival," he remembers fondly. "The first time, because I was afraid I would not make it; while the second time was a cry of joy because I felt very proud of myself."
Over the years, Simone intensified his training and began specializing in the marathon. Today, he sees running as a challenge to himself and as a means to overcome his fears. In 2016, he ran the Verona marathon, an experience that helped him build his confidence and drove him to set new and ambitious goals for himself. In 2019, he took part in the BiUltra for the first time, running in the six-hour event. It was such a defining moment for him that he decided to aim even higher and participate at the 24-hour event!
"I thought I would give it a go," commented Simone. "When I run, I feel serene and joyful. To me, running means feeling good about myself."
Encouraged by friends and family, and with the support of his coach, Charlie Cremonte, Simone spent the following two years preparing for the 24-hour ultramarathon: every morning he cycled for 4 km to meet Charlie. They trained in a park six days a week for about 5 hours a day!
This year, Simone's commitment, passion and hard work have been paid off. On 27-28 March 2021 Simone Perona ran the 24-hour ultramarathon and not only did he finish it—he exceeded the goals he had set for himself! "Simone's victory, which is the result of two years of hard training, is everybody's victory," his coach Charlie proudly commented. "The goal was to cover 100 km, but he went way beyond that—proving that dedication, sacrifice and passion for sport can overcome every barrier."
Simone has dedicated his endeavour to his parents and his coach Charlie, who have always believed in him, and to all Special Olympics athletes who demonstrate every day that they can achieve great goals. Beyond that finish line, it isn't just a victory for Simone, but for many families and many other athletes who dream of opportunities and inclusion.