Special Olympics demonstrates how sports can open doors to accelerating access to health services, enjoyment of human rights and human development for people with intellectual disabilities. The organization's efforts are noticed by the highest agencies and UN Special Rapporteurs and Envoys responsible for protecting human rights of persons with disability worldwide.
On 14 March, the Special Olympics 2018 MENA Regional Games kicked off in Abu Dhabi, United Arab Emirates. A delegation of high-level United Nations agencies and Special Procedures, as well as representatives from the Global Vaccine Alliance (GAVI), attended sport and health events throughout the week to observe how initiatives like the Games can support countries in their efforts to protect health and other human rights of persons with intellectual disabilities.
The UN provides support for countries to implement conventions and guidelines that protect the rights of persons with disabilities, such as the Convention on the Rights of Persons with Disabilities (CRPD) and the United Nations 2030 Agenda for Sustainable Development.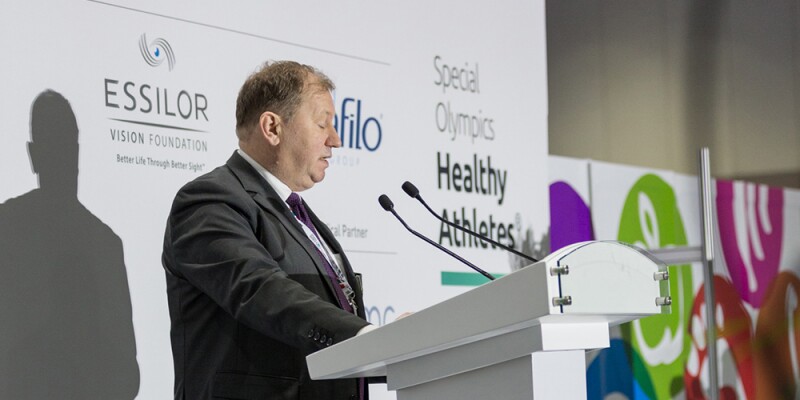 The delegation also headlined a ribbon-cutting ceremony for Healthy Athletes. Special Olympics Healthy Athletes®, made possible by the Golisano Foundation, offered free health screenings and education to all 1,000 athletes competing at the MENA Regional Games in seven disciplines: podiatry, vision, dentistry, physical therapy/fitness, nutrition and healthy habits, audiology, and emotional well-being.
"I see commitment and political will. At Healthy Athletes, I saw many young doctors performing athlete screenings. The main task is now for all governments to replicate these practices and to integrate them into general health care systems," shared Dr. Dainius Puras, United Nations Special Rapporteur on the right to health. Maria Soledad Cisternas, UN Secretary General Envoy on Disability and Accessibility, also participated in the MENA Regional Games.
According to data compiled by Special Olympics in 2017, the prevalence of certain health problems among Special Olympics athletes in the MENA Region was higher compared to athletes globally. Among Special Olympics athletes in the MENA Region, 23% have mouth pain, 62% have untreated tooth decay, 38% have never had an eye exam, and among adults with intellectual disabilities, 25% are overweight and 7% are obese.
In summary, Special Olympics Senior Director of Health Systems Javier Vasquez said, "Sports, health, inclusive education, employment and other related human rights of people with intellectual disabilities, in the MENA region called 'people of determination', are protected under the UN convention, and Special Olympics is lighting a pathway for nations to become more inclusive and accepting. This could be one of the legacies of Regional and 2019 World Games in the MENA Region."