Herith Suleiman deeply understands the needs of people with intellectual disabilities. Why? Because Herith himself has intellectual disabilities.
During COVID-19, Herith found ways to encourage his fellow Tanzania athletes to stay fit and healthy, along with coaches, family members, and volunteers. He took the time to visit schools and community centers to help with health education and lead fitness exercises. He also made sure to keep Special Olympics Fit 5 as the guide for everyone to achieve fitness and personal bests through physical activities, plus proper nutrition and hydration. As an athlete leader, Herith also does health work with coaches, families, Unified teammates, and volunteers at home, at school and community.
Herith has become a valued health and fitness expert, also leading exercises for athletes and urging school teachers and families to use the Fit 5 cards as their guide for the best fitness exercises.
The Chairman of the Tanzania Association for Mentally Handicapped has praised Herith's "efforts and dedication to take care of our children." He says such work has great impact, adding that "a study has shown that children who participate regularly in fitness exercises are more likely to achieve in academics or to win awards."
School teacher Stephen Oloo, who is also a coach, says the Fit 5 techniques are a great help in giving people with intellectual disabilities every opportunity to be healthy by increasing their fitness and wellness. This is also how to work toward ending the health inequalities faced by people with intellectual disabilities.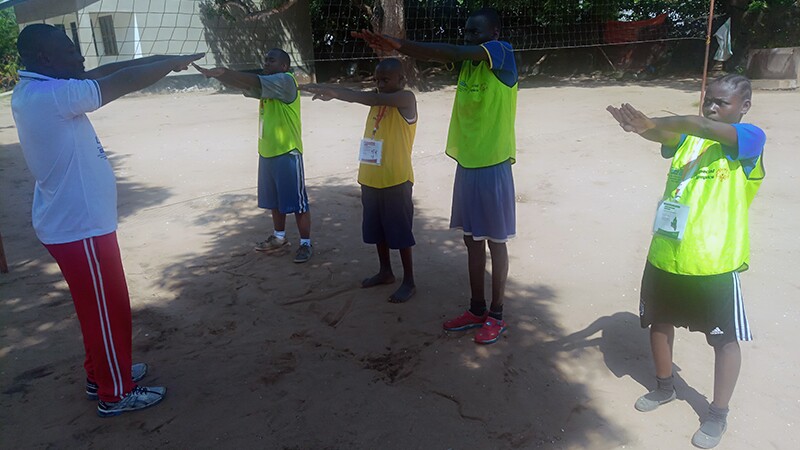 Fit 5
Fit 5 and Fitness Cards have been valuable resources for Programs looking to expand their fitness programming and initiatives.

The resources were designed to be utilized with flexibility, giving Programs the opportunity to integrate and implement the resources in a way that aligns with their current goals and objectives.