Under the blistering Florida summer sun, 16-year-old Layla Crehan has been paddling for many hours. But the Special Olympics Florida athlete is exactly where she wants to be: out on the water on her stand up paddleboard. Her stand up paddleboard journey started just a few years ago, without Crehan realizing how quickly she would take to it or just how far it would take her.
Crehan's passion for sports began with surfing, starting the sport when she was five. In 2018, she competed in a Special Olympics invitational, placing first and receiving a trophy. Since then, she has been to two State Games and won two golds. But surfing wasn't enough for her.
Crehan found stand up paddleboarding through Special Olympics and an instant connection with her coach, professional athlete Victoria Burgess. "She is my hero and my mentor," Crehan says with pride echoing from her voice.
Burgess, at age 19, also started surfing before competing in stand up paddleboard (SUP). But since starting SUP in late 2013, she has accomplished many feats. She has competed in the Molokai to Oahu World Championship SUP race, a 32-mile channel crossing in Hawaii. In 2018, Burgess set a world record, becoming the first female to stand up paddleboard 115 miles from Cuba to Key West. She and Roray Kam host one of the east coast's biggest SUP races, The RK Sunshine SUP Series. She holds sponsorships from some of the biggest names in the sport, including Roxy and Oakley. But the title that perhaps makes her most proud is head coach for the Broward County Special Olympics SUP team.
"I met Layla when we started the SUP (stand up paddleboard) team in Broward County, Florida," Burgess says. "She was one of the athletes originally on the first team, so we basically met and I started coaching her right then."
The two would go on to form a special bond. Burgess's own success in stand up paddleboard carried over to Crehan and each time Burgess would complete an event, Crehan aimed to find her own success.
Crehan and Burgess raced with each other for the first time on June 13. During the Florida Ocean Regatta in Port Canaveral, Florida, the pair placed first. A six-mile race, it was Crehan's first OC2 (outrigger canoe) race and Burgess had not done OC in years, and they were just looking to enjoy a fun event together.
"Layla trains very hard. She is a great all-around athlete," Burgess says. "She is extremely driven and focused on her goals. She works hard in all the sports she is involved in, and they all carry over as cross-training for stand up paddleboarding."
Crehan competes in a variety of sports, but after trying stand up paddleboard, she knew she'd found the one for her. She just needed a board.
After finding the board she wanted, Crehan made a video telling her story, put it on Facebook, and sold her artwork through her Facebook art page, Dancing Red Panda. Her artwork includes handmade chokers, wine glass charms and canvas paintings. "So many people bought my art I was able to buy that used board in 24 hours," she says. She has definitely put the board to good use since.
Layla Crehan's custom artwork
Layla Crehan's custom artwork
Layla Crehan's custom artwork
Layla Crehan's custom artwork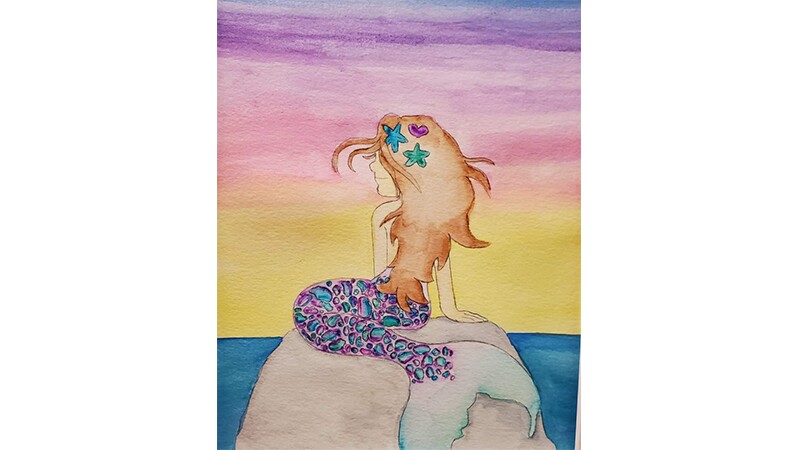 Layla Crehan's custom artwork
Layla Crehan's custom artwork
She continues to compete at the Special Olympics Florida State Games in Sarasota, but in a 2019 interview with Paddlemonster.com, she says her favorite event so far is "the Sunshine SUP Series race in Pompano," put on by her coaches. It was her first event outside of Special Olympics in the ocean and she placed third.
But her paddleboarding journey has only continued to develop as Crehan takes on larger challenges.
"Right now, I'm training for The Crossing for Cystic Fibrosis," Crehan says with excitement. "I will be attempting to paddleboard across the ocean from the Bahamas to Lake Worth, Florida."
The Crossing for Cystic Fibrosis is a long-distance endurance challenge and international championship that takes paddleboarders 80 miles across the ocean from Bimini, Bahamas to the Florida mainland in Lake Worth. The event, which is set this year for June 27, benefits Piper's Angels Foundation and was inspired by Piper's Angels founder Travis Suit's daughter, who has cystic fibrosis.
Crehan's reason to participate is also deeply personal: "Because I have a friend that has cystic fibrosis and I want to prove to her that I love her by attempting to cross 80 miles."
Like any athlete, Crehan's training routine is strict and very demanding; everything has to line up for the type of physical activity she will be doing. "I do a lot of things to train. I swim. I do pushups and Russian twists," she says, going into detail about her training, also mentioning, "I do yoga and medicine ball workouts, but mostly I paddle as much as I can in challenging conditions to get me strong."
And who better to help her train for an event like this, then someone who has first-hand experience competing in similar paddleboard events, like Coach Burgess.
"Her training plan was set up in a progression, so she is able to get used to longer times on the water and build up her mental endurance," Burgess says. "She recently did a 12-hour paddle and made it through smiling. This says to me, she's in the right place mentally."
For The Crossing, Crehan will likely be out on the open ocean for 15 to 18 hours. And to achieve that, like all elite athletes, she'll be on a specific diet.
"The diet has been really complicated," her mom, Cate Crehan, says. "That's been the hardest part of her training because you have to eat carbs and a very careful mix of carbs and protein."
She found the magic combination after some trial and error: baked potatoes, and almond and dark chocolate Kind bars.
There will be an inflatable raft with a rope attached to the boat, which will carry pre-arranged snacks and water to her every hour, so she doesn't have to get off her board. Crehan will have two sets of water and a bottle filled with flavorless electrolytes on her board.
A large portion of people will never cross an ocean in their lifetime, whether by boat or plane. Even a smaller percentage will attempt to do so on a paddleboard. On June 23, Crehan, accompanied by her mom and team, traveled to the Bahamas. There she'll make the final preparations for the biggest challenge of her life.
"I will leave in the middle of the night and spend about six or seven hours on the water in pitch dark," Crehan says.
Every fear Crehan might experience, she'll have to "push aside," her coach says. Fear of the dark, fear of any ocean animals, fear of ocean conditions (chop, waves, current) and, most importantly, fear of the unknown.
Layla Crehan is happiest when she's out in the water.
Layla Crehan is happiest when she's in the water.
Layla Crehan is happiest when she's in the water.
Layla Crehan is happiest when she's in the water.
Layla Crehan is happiest when she's in the water.
Layla Crehan is happiest when she's in the water.
Layla Crehan is happiest when she's in the water.
"Crossing an ocean waterway is a challenging event, both physically and especially mentally," Burgess says. "You can put in hours of work physically and be as ready as possible. But the real game comes in the day of, which is 99.9% mental."
In the six years The Crossing for Cystic Fibrosis has been held, Crehan will be the youngest person to attempt it. Should she complete it, she'll be the first person with autism and will be the youngest female to do so. While there will be many firsts, all she wants to do is prove to herself and her coach that she can do it.
"I'm not sure if I'll make it, but I'm going to be brave in the attempt," Crehan says.
Her success and courage are more powerful than she realizes and she knows her impact on her fellow Special Olympics athletes carries a lot of weight. All eyes will be on Crehan as she attempts the 80-mile journey across the ocean. Whatever may happen, she continues to set her sights on achieving greatness—her eyes on The Crossing as the next goal, with the 2022 Special Olympics USA Games on the distant horizon, where she's been selected to compete in surfing next year in Orlando, Florida.
"No dream is too small, and no dream is out of your reach," she says to the Special Olympics community. "So, give it all you got and never give up. If you dream it, you can do it."
Follow Layla Crehan's journey during The Crossing for Cystic Fibrosis on Facebook at https://www.facebook.com/CrossingForCF/.