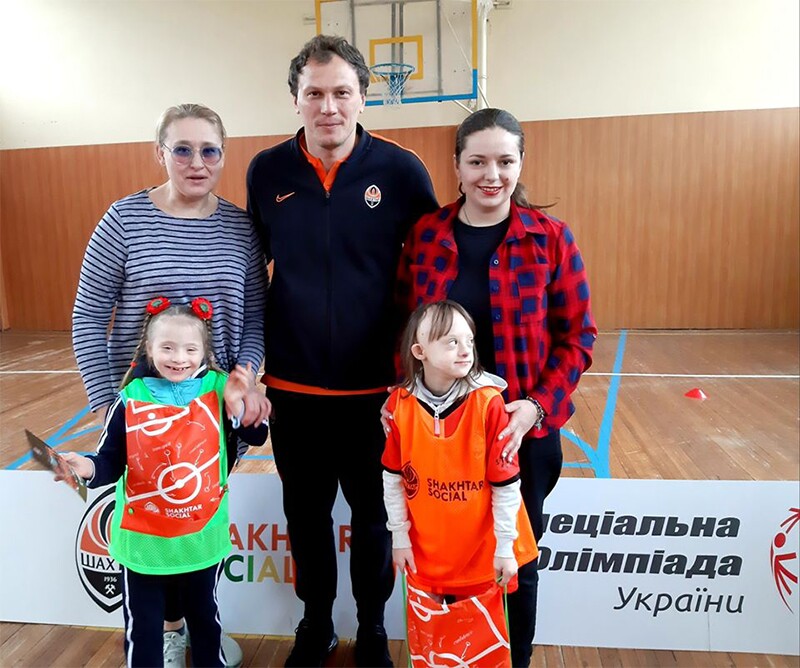 Shakhtar captain Andriy Pyatov and striker Danylo Sikan were deeply impressed by their visit to School No. 124 in Kharkiv, where Shakhtar Social, together with Special Olympics Ukraine and the United Nations Population Fund (UNFPA) Ukraine, are organising football training sessions for a team of girls with intellectual disabilities every weekend. As part of 'Come on, Play!', the Shakhtar players provided a master class with the Special Olympics athletes, chatted and signed autographs.
The project—led by Shakhtar Social—has already been awarded the United Nations Partnership for Sustainability Award and the coveted 'More than Football' award at the 2019 European Football for Development Network (EFDN) Conference. Special Olympics Ukraine and UNFPA Ukraine are among the partners implementing it since November 2019 in four cities of Ukraine (Kyiv, Kharkiv, Ivano-Frankivsk, Mariupol).
Speaking at the recent master class in Kharkiv, Shakhtar captain Andriy Pyatov, noted, "Football is considered the number one sport in the world. We, the players, have a responsibility to support such projects. I am impressed with the heroism of parents and coaches. These are our children and they deserve the best."
Shakhtar forward Danylo Sikan added, "We, like these girls, are filled with positive emotions after training sessions like these. It's always a pleasure to talk to children. We will try to motivate them to continue playing sports."
Training sessions with football stars are, of course, highly exciting for the athletes however for Special Olympics Ukraine, the main focus is on helping the project participants to improve their football skills and encouraging them to play and love football. 'Come on, Play!' continues to go from strength to strength and in 2020-2021, four more girls teams will join. The ultimate aim is that 80 girls aged between seven and 12 will benefit from the 'Come On, Play'. It will see two local tournament and one final tournament being held in April 2021 involving one team from each cities.