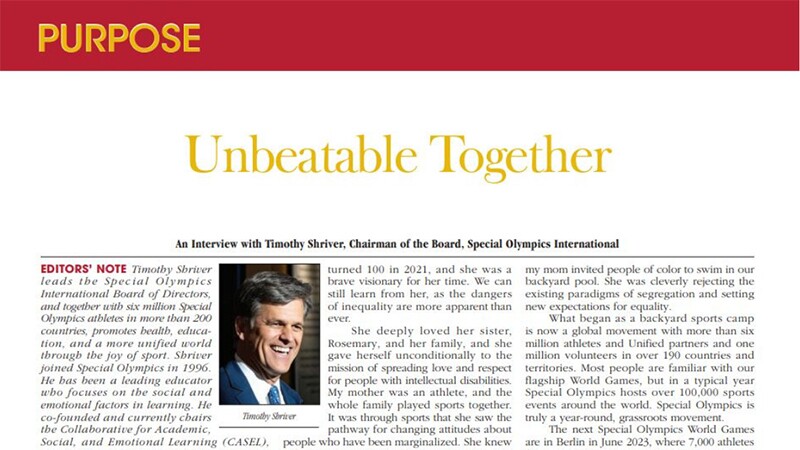 The following is an excerpt for the article titled Unbeatable Together published by Leaders Online.
How did Special Olympics adapt the way it works to address the challenges caused by the global pandemic?
Special Olympics has been supporting athletes through COVID-19 by pivoting to online spaces:

Hosting virtual games, virtual workout classes, physically distant workouts in the park, virtual book clubs, and more.
Launching School of Strength with WWE—an online fitness behavior change platform.
Sharing best practices across the movement with global webinars every other Tuesday.
Creating the go-to hub for COVID resources for people with ID: online workouts, tools for emotional well-being and mindfulness, printable health education posters, and fun activities like healthy recipes, how to start a podcast, coloring books and more.
Globally, people with intellectual disabilities are 2 to 4 times more likely to die from COVID-19. In the U.S., people with ID are almost 6 times more likely to die from COVID-19.
People with ID had fewer opportunities to stay socially connected and physically active during the pandemic, so we accelerated the launch of a fitness program called School of Strength featuring WWE Superstar Becky Lynch, which was featured on the TODAY Show. School of Strength has been so successful, we launched a Spanish version, Escuela de Fuerza, featuring Gleyber Torres of the New York Yankees and Willson Contreras, formerly of the Chicago Cubs who just signed with the St. Louis Cardinals.
The pandemic showed us that we are able to shift priorities from an organization-wide perspective in a way that worked for grassroots stakeholders on the ground in nearly 200 countries. As the world figures out what the new normal is—post-pandemic and as social justice goes from being a movement to becoming an expectation—Special Olympics is here to remind people that diversity goes beyond gender identity, race, ethnicity, or sexuality; it also includes every kind of human diversity and gift.