I first met Karen Milligan about fifteen years ago at beginner Special Olympics Athlete Leadership training. Even though Karen is smaller in stature than a lot of us attending, I noticed right away that she had a big personality. She was warm and friendly. It was clear that she really loved Special Olympics. For years now, I've had many experiences alongside Karen. Her personality and her actions make me feel a part of a larger family, the Special Olympics family.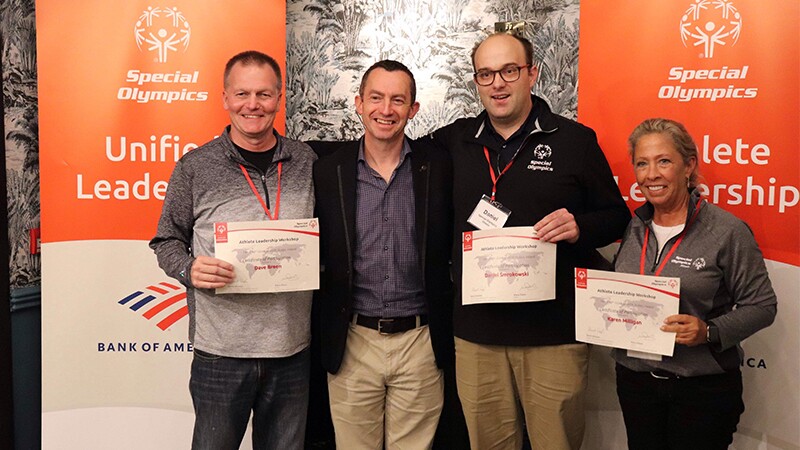 Karen has, for all these years, worked out of Normal, Illinois, as the Director of Athlete Leadership and Family Initiatives for Special Olympics Illinois. Karen is a woman in my life who has had a large impact on me from supporting my development as an athlete leader, being a champion of change, and supporting my current inclusive employment.
First, Karen is always looking out for the time commitments of myself and other athlete leaders. Karen knows that between the sports I compete in, the podcast and my job, I am always busy with multiple commitments. By respecting this, she makes sure that I can accomplish each Athlete Leadership opportunity. For this I am thankful Karen is always there for me and looking out for me.
A second way Karen has had a large impact on me is that she always supports me in furthering my Athlete Leadership skills. One way she does this is by offering different training opportunities from personal and professional development to governance and serving on the Board of Directors. Karen also has given me the opportunity to co-lead Athlete Leadership training. She first helps to make sure I understand how to lead others and then supports my role of co-facilitating the Introduction to Athlete Leadership courses. I am grateful she supports me in furthering my skills as an athlete leader.
Another way Karen has made a large impact on my life is being a champion of change. Karen understands how to act for inclusion and focuses on building connections to ensure individuals with and without disabilities can be seen, heard, and valued. One way she has been a champion of change is letting me lead. As I co-chair our state's Athlete Leadership Council, Karen gives me an opportunity to co-lead with my fellow athlete leaders. Another way Karen has been a champion of change is by co-leading Unified Leadership presentations with me and helping to make sure others understand the importance of inclusion and Athlete Leadership.
Karen has helped me to make connections with people without intellectual disabilities. One way she has done this is by strongly supporting my inclusive employment as a Service Ambassador at United Airlines. This new inclusive employment program started back in 2019 when United partnered with Special Olympics to hire Special Olympics athletes in a new job within the airline. Karen talked with me a few times over the phone and encouraged me that this will be an excellent opportunity for me on my inclusive employment journey. A couple years ago, I sat down with Karen and another staff member at SO Illinois to talk about this new inclusive employment opportunity at United Airlines. Listen to my podcast conversation with Karen on Special Chronicles at specialchronicles.com/podcast395.
Finally, Karen has been an excellent travel companion. A few years ago, I traveled to Dublin, Ireland with Karen, and our President/CEO Dave Breen to attend the Athlete Leadership Workshop Global Unified Leadership launch. Karen always made sure I knew where I was going, that I had everything I needed, and looked out for me. I am grateful that we had an opportunity to travel together. Plus, we got to explore the city of Dublin, which was lots of fun to do.
Karen is a woman who is warm and friendly, truly understands the importance of inclusion, and loves the Special Olympics movement. I personally want to thank Karen for always supporting and being there for me.