More than 2,000 athletes from 108 countries are expected to compete at the 2022 Special Olympics World Winter Games in Kazan, Russia.
While it's too early to know final rosters of which athletes will be chosen for Kazan, it's never to early to get to know some of the athletes who've competed at World Winter Games.
Here are just a few of their stories, covering some of our favorite winter sports: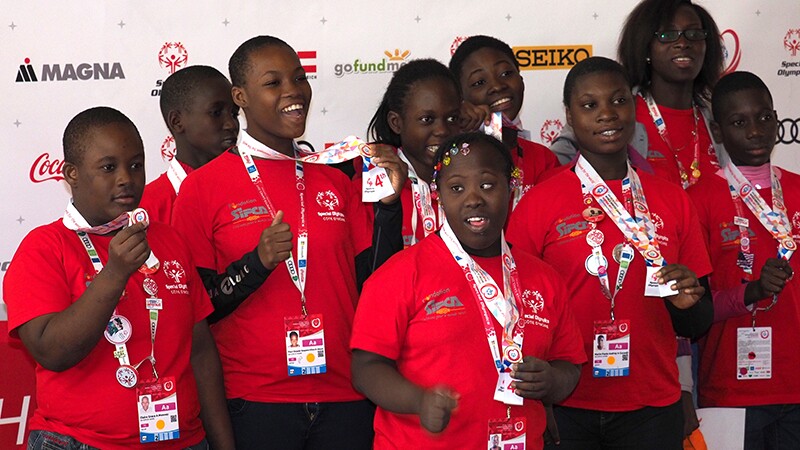 FLOORBALL
Diabate Hadidiah, Cote D'Ivoire (AFRICA)
Diabate is an athlete who loves a challenge. That's how she became one of the few female judo athletes with Special Olympics Cote d'Ivoire—and one of the best. Her strength and stamina surprise everyone, at first. However, those skills are among the reasons Diabate's coach encouraged her to try a new sport—her first winter sport: the fast-paced game of floorball.
Floorball was also Diabate's first team sport, which created new challenges. For the first time, she had to work at communicating and strategizing with many teammates, which became important new skills.
Through sports, Diabate says she's found new abilities and confidence, plus she's mastered the skills of cooperation and compromising with multiple players on her team. She's even gained more physical strength racing up and down the field.
Her next challenge involved leading Cote d'Ivoire's mostly female floorball team to their first World Winter Games competition! At the 2017 World Winter Games in Austria, Diabate's team triumphed with hard-fought victories—and a bronze medal.
Diabate used to attend a special education school, but after awhile, her parents could no longer afford to send her. Since then, she's been learning all she can through her Special Olympics training, including communication, adaptive and social skills.
She and her fellow Cote d'Ivoire athletes continue keeping in shape and training as best they can during the COVID-19 pandemic. The countdown is on for the next Special Olympics World Winter Games Kazan—in January 2022. Be there to see athletes like Diabate bring their skills to the global spotlight!
ALPINE SKIING
Brenton Heslehurst, Australia (ASIA PACIFIC)
Meet Brenton Heslehurst from Special Olympics Australia. He lives over 2,000km from the nearest Australian snowfields. Yet he's a skilled athlete who's worked hard to excel in alpine skiing.
Brent was thrilled to represent Australia at the last Special Olympics World Winter Games 2017, held in Austria. Those Games marked a year of important firsts for him: He was chosen to represent Australia for the first time at a World Winter Games AND he welcomed his first child with his wife, Emily, who is also a Special Olympics athlete. (They met at the Asia-Pacific Regional Games in 2013).
Of course, Brent didn't stop there. He achieved another first at those last World Winter Games—his first gold medal in global competition in the Giant Slalom!
He says he's always "proud to represent my country at the highest level and I am going to do my best for my friends and family." Asked what he would do if he could do anything he wants, he says, "I'd just enjoy my life. I'm lucky. I hope that others with disabilities get the opportunities I've been lucky enough to get. The fun I've had is priceless."
Australian and other Asia-Pacific athletes are keeping up their training for the next Special Olympics World Winter Games Kazan—in January 2022. Learn more about the Kazan Games at https://sokazan2022.com/.
SHORT-TRACK SPEEDSKATING
Li Xiang, China (EAST ASIA)
Li Xiang has been changing attitudes about the abilities of people with intellectual disabilities all his life.
In China, people with intellectual disabilities can face stigma from the moment of diagnosis. The parents of Li Xiang know this all too well. Their baby's diagnosis of Down syndrome came like a bolt of lightning. "When I got the news, it was like everything collapsed," recalls his mother. But soon, they learned that a diagnosis doesn't define anyone!
As Li grew, so did his talents and determination; then he got involved with Special Olympics. For both his parents and coaches, any negative expectations changed when they saw Li work hard to learn, then master, and, eventually, succeed in sports.
It wasn't easy. Li had trouble with coordination and balance. He was also very sensitive to failure. But he kept trying and picking himself up again—and again.
Li's coach says "sports are of enormous help" to him and motivate him to improve his skills. At age 11, Li was one of the youngest competitors at the Special Olympics World Games in Los Angeles during the summer of 2015. In 2017, at age 13, he was again among the youngest competitors, this time at the World Winter Games—taking on a completely new skill and challenge: speed skating.
He followed up that achievement at the 2019 World Games in Abu Dhabi, putting his ever-sharpening skills and strength back in the global spotlight in artistic gymnastics competition. Through it all, he's earned gold, silver and bronze medals; what's more: he's shattered anyone's low expectations about people with Down syndrome.
These days, Li is a 17-year-old World Games veteran, who's been in intense training to learn yet another sport: floorball. This is his first team sport, but he's confident he will succeed!
NOTE: Floorball continues to grow as a sport within Special Olympics. According to the latest statistics, the number of Special Olympics floorball players has increased from 26,108 to 36,375. Floorball is now played in 63 programs/countries around the world.
SNOWSHOEING
Kenneth Ramirez, Costa Rica (LATIN AMERICA)
Kenneth has always been a motivated athlete. But at the last World Winter Games, he had even more reason to train hard: Kenneth and his family nearly lost everything when their house caught fire and burned down to the ground. Their losses included all the medals Kenneth had earned in Special Olympics competitions over the years.
The family lives in a rural area located east of Central Valley in Costa Rica. Kenneth's mother said the fires devastated everyone, but especially Kenneth. In her words, "Those medals were his pride." For many months, he trained harder than ever for his first World Winter Games. His goal was to start a brand new collection of medals. While he was also hoping to earn medals in local competition, Kenneth thought a World Games medal in snowshoeing would have special meaning, signifying a new start and a hopeful future.
His determination paid off: Kenneth earned a new medal in Austria, earning gold as part of Costa Rica's winning relay team! He also received a huge surprise: he was presented with replicas of his lost medals to replace those lost in the fire!
Back in Costa Rica, Kenneth has gone on to graduate from high school. He continues his training, while following all pandemic-related protocols. He has also started helping his father in field work, so he can help support the family. Through it all, he continues to try to earn a spot on his country's national team again for the World Winter Games—this time in Kazan, Russia.
CROSS-COUNTRY SKIING
Erika Kalin, Switzerland (EUROPE EURASIA)
At the last Special Olympics World Winter Games, Erika Kalin quickly drew spectators' attention at the cross country skiing 10-kilometer freestyle competition. She quickly gained fans beyond her Special Olympics Switzerland Program.
Despite the roar of the crowd, Erika stayed laser-focused. The cheering fans gave her the needed adrenaline to push to the finish. But they also made it hard to hear an important voice: that of Erika's guide, Reinhart Schutz. Erika is visually impaired and it is his calm, steady encouragement and direction that help steer her to the finish line.
Crossing the line with arms raised to the sky, Erika was exuberant—it was apparent to the hundreds of fans in attendance that they had just witnessed incredible athleticism. As she put it, "My heart was pounding hard but it set a rhythm for my body and I felt like I was flying across the snow. The feeling was incredible, amazing, like heaven!"
Erika and Reinhart try to train together several times a week. As her guide during competition, he is allowed to use only his voice to help her navigate the track; she skis the race course, keeping an ear out for his directions, allowing his words to move her through obstacles, turns and other competitors. Reinhart is not allowed to physically provide any assistance; he must stay on the sideline.
Says Erika, "Prior to a race, the nuances of the track are studied to design the best competition plan. During a race, I know that Reinhart is looking ahead and relaying every aspect of the track so the I can confidently and aggressively attack the course."
At the last World Winter Games, Erika's athleticism and skill earned her a gold medal in the 5k and silver in the 10k. Training has already begun for all of Switzerland's athletes hoping to compete in the next World Winter Games in Kazan, Russia.
FIGURE SKATING
Sharita Taylor, Ohio USA (NORTH AMERICA)
Competing at her first World Winter Games was a longtime dream for Sharita. She says she's excited every chance she gets to skate; but being chosen for the World Winter Games was the ultimate. That's why she chose the theme from "Peter Pan" for her figure skating performance. She says the experience made her feel like she was living in a fairy tale.
Sharita's twin sister, Shaye, is also in Special Olympics—and is also a figure skater; though she did not make the World Games team, she was there to cheer on her sister. When she's not competing, Sharita trains when she can and has been working at PNC bank.
One of Sharita's long-term goals is to be a figure skating coach for her local Program or maybe even Special Olympics USA's World Games team.
"I wouldn't have learned what I've learned without the coaches who helped me over the years and my parents who saw past my disability and helped bring my talents and abilities out!" says Sharita. "It certainly hasn't been easy, but every step made is so worth it!" She is also advocating for more racial diversity in winter sports, especially figure skating.
In addition, Sharita is a dedicated mentor—for her fellow athletes with autism and those without. "I still want to pass on what I've learned to younger generations on the spectrum and those who are not on the spectrum! If I can do it, everyone can!"
SNOWBOARDING
Daina Shilts, Wisconsin USA (NORTH AMERICA)
USA snowboarder Daina Shilts is an athlete leader who's as dynamic in the slopes as she is on the speaker's podium or on broadcast TV.
Daina's been part of Special Olympics most of her life, so she's seen up close how sports brings people together. That's yet another reason she loves Unified Sports, which teams up people with and without intellectual disabilities.
She says, "Special Olympics has taught me—and other people—that it's okay to be different." In fact, she says, "it's awesome" to be different."
Daina snowboarded to a bronze medal at her first World Winter Games in PyeongChang, Korea. She is also a veteran competitor at the X-Games in Aspen, CO. There, she's raced along with Olympic champion Hannah Teter in Unified Snowboarding, year after successful year. When they first won silver and bronze in the dual slalom event, Daina recalls that they were the only females on the podium.Kazan 2022 Games "Girl power!" she says.
At the last World Winter Games, Daina was a pivotal part of ESPN's team broadcast coverage. She also participates in athletics, bowling, alpine skiing, cross-country skiing, and snowshoeing. When she's not in training, Daina works for Wisconsin's Early Autism Project and also as a substitute teacher.
Daina says sports have challenged her to try things she would never have done otherwise. She adds, "Sports have also helped me to decide my future goals in career choices—I want to help other children like I've been helped through Special Olympics."
Learn more about the Kazan 2022 Games.