Amber Gertsch has a passion for everything she does—taking care of her red tail hawk, sword fighting, being an EMT—but some things stand out more than others. Behind her gaming chair sits a wall full of medals from virtual walking events and patches from various fire departments, police departments, EMS, and military nationwide.
"I really love firefighters, EMTs, soldiers and so I call it my hero wall," Gertsch says.
First responders have always held a special place in the heart of Gertsch. From friends in the community to volunteers at Special Olympics events, she continues to be inspired. And it's the reason behind the majority of her walks.
Gertsch, a dedicated Special Olympics Utah athlete since 1996 who loves swimming, sits in front of the camera for the interview, glowing with a smile. She has so much to share about how she loves to set an example and stay active.
It's mid-February and the winter in Utah can be unmerciful, but that doesn't seem to phase Gertsch.
"Last night [15 February, 2021] at about 10:30 p.m., we had a really good snowfall," Gertsch says about walking during the winter. "I threw on my snowshoes and went out and did a mile."
Gertsch has always been active. She lives at home with her parents, is a member of multiple clubs and helps the community in any way she can. So, when the world suddenly shut down and everything went virtual, she had no trouble adapting.
"I have so many things that I do; I mean, if you have a ton of hobbies, you're not bored when things shut down," Gertsch says about the effects of COVID-19. "Then Special Olympics North America brought up the Stride Challenge and I was hooked because I discovered these virtual walks. I've done over 59 since September where you walk outside. I've done 10ks, 5ks, I've done half marathons, but because of my joints, I can't run them, I have to walk it."
Gertsch participates in virtual events that have meaning to her: for first responders, raising funds for children with cancer and, of course, supporting Special Olympics.
"For a lot of virtual events, I pay out of my own pocket," Gertsch says. "And then [some are] Christmas presents, birthday presents, and [from my] mother."
She's always been a competitive person and seeing her fellow Special Olympics athletes compete motivates her to rack up miles. And she's seeing the results of her dedication. The amount of time it takes her to complete a 5k (a distance just over 3 miles) has gone down.
"I can now do a 5k in 44.56 minutes," she happily says. "Before, it took me almost an hour and a half to do a 5k. My size has gone down quite a bit; I've had to buy new pants."
As the interview ends, the Special Olympics North America team shares some news with Gertsch. She is asked to join a Unified team for the SONA Move Challenge: an 8-week movement challenge running from 15 March, 2021 – 9 May, 2021, to see how many minutes of exercise participants can complete each week. Before the question is finished, a loud burst of excitement rattles through her voice, "I would love to!"
She can't get enough of the competition.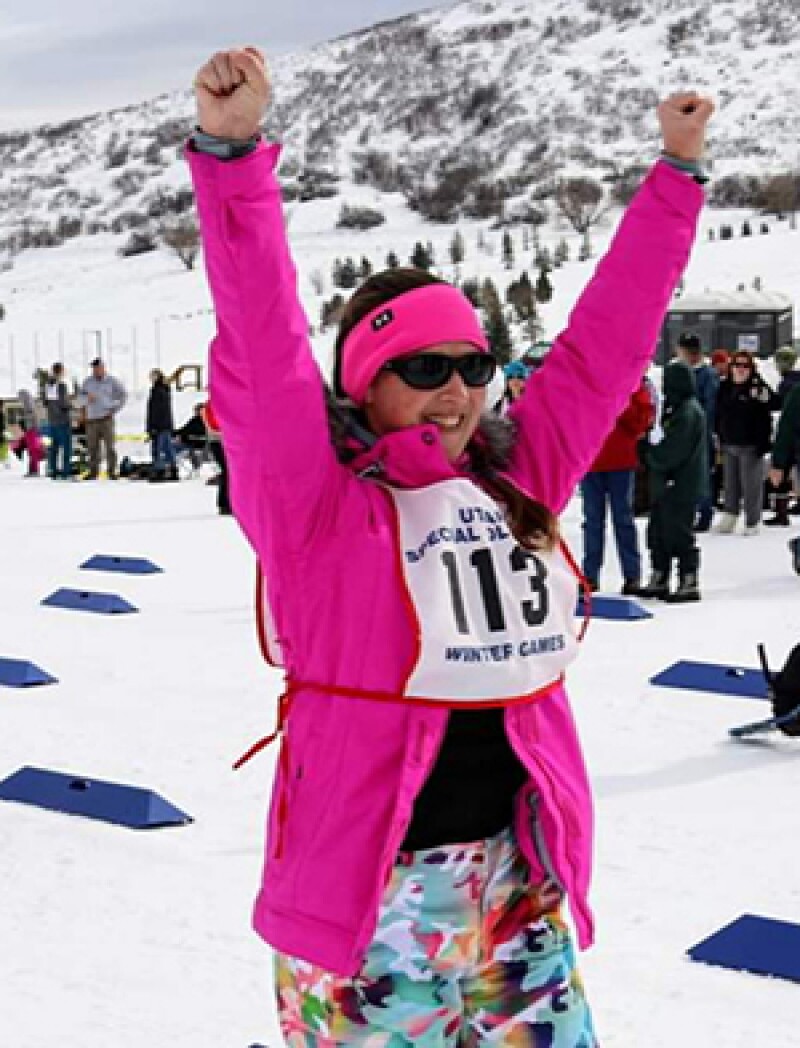 Whether it's inside her house, walking up and down the stairs, or outside in the blistering cold, she continues to achieve new personal bests. And she's never been more excited about it. It's a positive reminder that if you put your mind to something, you can achieve it. And she wants to remind other athletes of it, too.
"Just start walking," Gertsch says to athletes who want to become more active. "Even if you walk up and down your hall, it doesn't have to be very far, but don't do too much too soon. Find a friend and walk with a friend."
Gertsch continues to do things she loves: everything from play Xbox and watching movies, to serving as an EMT at Special Olympics events and supporting causes important to her.
But most of all, she continues to move.
You can sign up to join the SONA Move Challenge here. Participant registration for the SONA Move Challenge closes March 14.