Special Olympics USA defeated Special Olympics Egypt 3-1 in the opening match of the Special Olympics Unified Cup Detroit 2022 today. At Corner Ballpark, the USA defense was strong and capable. Egypt dominated the offensive play with 10 corner kicks in constant attack of USA. This is a credit to the USA defense and center defensive back Dominique DeHerrera who kept Egypt from capitalizing on a number of shots. With the outstanding performance of goalkeeper Radoslava "Radi" Papdopoulos with eight acrobatic saves, USA heads into their second match on 1 August, 2022 at 10:30 a.m. against Special Olympics Serendib (Sri Lanka).
Radi's eight saves helped her emerge as one of the early superstars of the tournament but the team co-captain is staying humble. "I wasn't nervous playing today," Raddy shared. "I feel pretty good about the win."
Papadopoulos was born in Bulgaria before being adopted at age 12 and moving to Salt Lake City, Utah. The 17-year old first started playing football (soccer) with her friends in Bulgaria and joined Special Olympics Utah while attending West Lake High School in Salt Lake.
USA Coach Brian Karren coaches Raddy on three different teams in Utah. "She gave us that early spark we needed." He grew emotional recounting the game. "As a team, I think we surprised everyone. We'll make adjustments for tomorrow but we certainly feel more confident now that we have a win."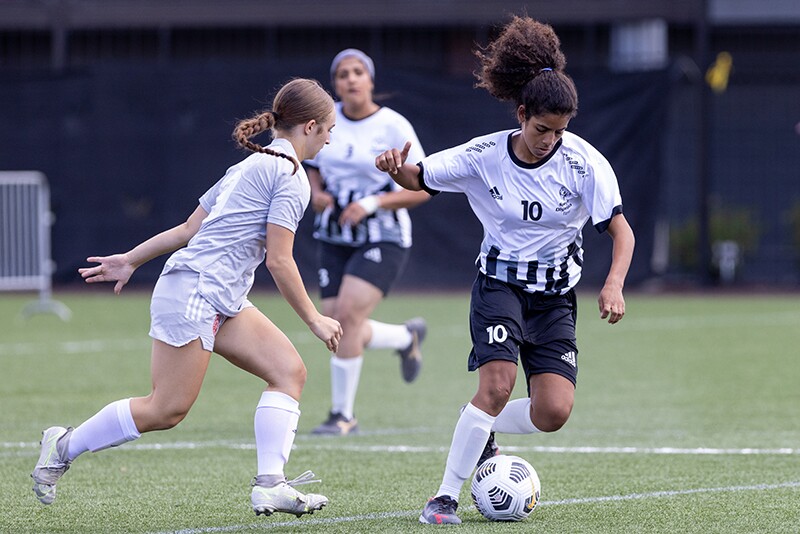 DeHerrera scored the first goal of the game at the 11-minute mark bringing the score to 1-0 going into half-time. Special Olympics Egypt equalized in the 25th minute with a goal from Unified partner Hala Abdelsamad.
Egypt coach Fajza Rahim has high hopes for the tournament. "We came in third place at the first Unified Cup in Chicago," she shared. "Our goal is to do better than that."
Nour Masoud, Egypt Unified partner, who attempted five shots on goal, says her first trip to the United States is proving enjoyable. "Even though we lost, it was fun playing together and supporting the athletes on the team doing their best."
Following the match was the tournament Opening Ceremony. It featured a parade of athletes, the Law Enforcement Torch Run, a concert by the Thornetta Davis Band and remarks from Tim Hileman, Special Olympics Michigan President and CEO.
He had a special message for the competitors. "The past few years have not always been easy, but you have continued to shine a light of positivity that brings us all together. You are showing the world the importance of inclusion, you are showing the world the importance of community, you are showing the world that everyone has gifts to be celebrated. You show us that truly together we are unstoppable. We can't wait to watch you compete this week."